Headstring News
Strickland Takes One Pocket, 9-Ball Underway in Carolina
Oct 5, 2007, 3:44 PM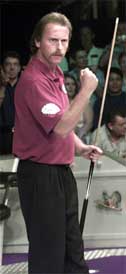 The Pearl shined in one pocket, but will work from the left-side in 9-ball.
Earl Strickland looks to be about locked in for the U.S. Open in two weeks. At the Carolina Classic — held Oct. 2-7 at Fast Eddie's in Goldsboro, N.C. — "The Pearl" snapped off the one-pocket division, topping a field of pros and semi-pro regional players.

Strickland outplayed Larry Nevel in both the hot-seat and final matches. In the final, Strickland jumped to a 2-0 lead before Nevel responded with 3 games of his own. The two men traded racks, meaning Nevel was on the hill with a 4-3 lead. The legendary Strickland caught fire, though, taking the last two for a hard-earned 5-4 victory.

On the left side, Sparky Ferrell topped Louis Ulrich and Richie Richeson beat Scott Rabon to set the fourth-place match. Richeson overcame a 2-0 deficit, advancing to face Nevel for a berth in the final.

The losers-side final was all Nevel, as he easily took the match, 3-0. Richeson cashed for $900, Nevel took $1,250 and Strickland pocketed $1,850 for his win.

The 9-ball event will be continue through the weekend, with the championship match being played Sunday night. Both top finishers in the one-pocket event will have some work to do on the left side.

Mike Davis looks to be the hot stick at the event thus far, after beating Gabe Owen and Earl Strickland in consecutive matches. Rafael Martinez is also on the move, topping Nevel in early round play.