Headstring News
Corr Tops Fisher in Final, Repeats as Midwest Classic Champ
Oct 8, 2007, 12:17 PM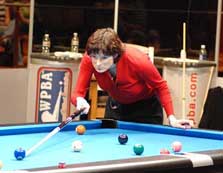 Corr claimed her second title of the year in Norman, Okla. (Photo courtesy of the WPBA)
The 2007 WPBA Midwest Classic might have moved across the country and later into the schedule from last year, but the hardware remained in familiar hands. Karen Corr won the title for the second-straight year and the third time in her career, with a tight victory over familiar foe Allison Fisher in the final.

This year's event — held Oct. 3-7 at the Riverwind Casino in Norman, Okla. — continued this year's theme of the tour veterans and rising stars clashing in the single-elimination round of 16.

Fisher sent Jasmin Ouschan to the left side, then — thanks to the redraw — faced the Austrian star again in the first round of knock-out play. Ouschan kept pace for most of the match, but Fisher pulled away in the final racks, advancing by a 9-7 margin. She then eased past Kelly Fisher and Sarah Ellerby to make her fourth appearance in the finals this year.

Opposite Fisher, Corr dealt with the WPBA veterans first, before facing the new faces of the tour. In the round of 16, Corr battled with Vivian Villarreal, 9-6. She then moved past Monica Webb to set up a semifinal showdown with Ga Young Kim.

The international stars might have had the advantage early this year; Kim and Xiaoting Pan took the first two events of the year. The last four events, however, have been dominated by the old twosome of Fisher and Corr. And this semifinal was no different; Corr moved into the finals with a 7-5 victory.

In a rematch of May's EnjoyPool.com 9-Ball Championship final (and countless other finals), Corr and Fisher traded racks to a 4-4 tie. In the ninth game, Corr executed a nifty jump shot on the 1 and ran out for a 5-4 lead.

In the next rack, Corr looked set to take the match, but scratched while pocketing a difficult 9 ball. Unphased, Corr ran out the next rack after a dry break by Fisher, then took the title after an errant shot by Fisher on the 4.

The Midwest Classic is Corr's second WPBA title of the year, keeping her firmly in the second spot on the WPBA rankings.