Headstring News
Groups Announced for November's World Pool Championship
Oct 11, 2007, 11:50 AM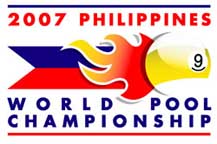 For the second consecutive year, the World Champion will be crowned in the Philippines.
Three weeks before 128 of the world's finest pool players battle for the World Pool Championship in the Philippines, the first-round groups have been announced by Matchroom Sport.

The tournament — taking place Nov. 3-11 at the Araneta Coliseum in Quezon City, Philippines — offers a prize purse of $400,000, by far the biggest of the year.

First-round play has been slightly altered from years past. Beginning with 16 groups of eight players, the championship will feature a modified double-elimination bracket. In the eight-player bracket, any player who wins two matches before losing two will advance.

The change in format is an attempt to resolve issues from past years, where round-robin play allowed for collusion between an eliminated player and one hoping to move on.

Of the 119 players set to compete (the remaining nine spots will be filled via qualifying tournaments), 14 Americans hope to be the first U.S. native to win the World Pool Champion since Earl Strickland in 2002.

Two U.S. players are top seeds in their groups; Shane Van Boening and Johnny Archer will both face winners of qualifier tournaments. World Cup of Pool teammates Rodney Morris and Corey Deuel begin play as second seeds.

Charlie Williams, Mike Davis, Earl Strickland, Shawn Putnam, Tony Robles, Jeremy Jones, Robb Saez, Charlie Bryant and Troy Frank round out the American squad.

The Philippine contingent is as strong as expected, headlined by reigning champion Ronnie Alcano, Efren Reyes, Dennis Orcollo and Lee Van Corteza — all heavy favorites to advance from group play.

Following group play, the tournament will be a single-elimination bracket of 64. All matches will be winner break, another change from last year.

The final is scheduled for Nov. 11 at 2:30 p.m. local time.