Headstring News
One Round in the Books at 2007 U.S. Open
Oct 15, 2007, 11:03 AM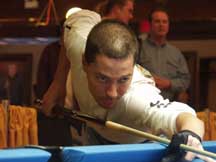 Schmidt eased past Ohtenen, 11-5, in the opening round. (Photo: Dianna Hoppe)
Two days and 105 matches into the 2007 U.S. Open 9-Ball Championship, the opening round is complete. When play resumes Tuesday morning, second-round matches will get going.

Many of the big names in the 233-player field advanced without problems; Johnny Archer, Jose Parica and Niels Feijen all posted 11-0 victories. Efren Reyes, John Schmidt, Shane Van Boening and Francisco Bustamante also advanced without drama.

Mika Immonen might be the biggest name sent to the left in the opening round. In a cruel matchup with Japan's top-ranked Naoyuki Oi, Immonen surrendered the case game, losing the match, 11-10.

Notably, Charlie "Hillbilly" Bryant and Cliff Joyner both forfeited. Joyner was scheduled to face Dennis Orcollo in one of the most anticipated first-round matches.

The U.S. Open, one of the most prestigious titles in pool, will continue through Sunday, Oct. 20. at the Chesepeake Convention Center in Chesapeake, Va. The format is double-elimination, with winner break, race-to-11 matches. The final is a single set to 11.

Second-round highlighted matches include 2003 U.S. Open champ Jeremy Jones taking on Louis Ulrich, one of the nation's hottest players after his second-place finish in August's Turning Stone IX; Gabe Owen facing Tony Crosby; and an international affair between Daryl Peach and Marcus Chamat.