Headstring News
Field Begins to Narrow in Chesapeake
Oct 17, 2007, 11:10 AM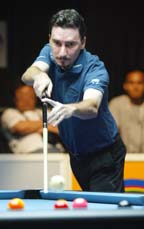 Johnny Archer is unbeaten entering his third-round match with Michael Stansbury.
The eliminations have begun at the U.S. Open 9-Ball Championship. The 233-player field is starting to dwindle as the losers' bracket begins to fill up. As was the case in the first round, the favorites continue to advance, though some with more difficulty than others.

Surprisingly, five-time U.S. Open champion Earl Strickland was the first big name bounced from the event. After winning his first match, Strickland dropped two straight for an unusually early exit.

Conversely, Johnny Archer has been a model of perfection through two matches. The 1999 Open champ, Archer has blanked both opponents for a remarkable 22-0 record. Not to be outdone, Dutch superstar Niels Feijen has lost just one rack through two rounds, posting 11-0 and 11-1 victories.

Efren Reyes narrowly escaped an upset bid from Marc Vidal, who took the Magician to hill-hill before Reyes could move on. Similarly, Rodney Morris found himself in some trouble against North Carolina's Michael Fuller. Down 8-2, Morris streaked to an 11-9 victory.

Notable third-round matches include Nick Varner against Shannon Daulton, Shane Van Boening facing Sparky Ferrell, and Louis Ulrich matching up with Alex Pagulayan.

The U.S. Open will run through Sunday, Oct. 20 at the Chesapeake Convention Center in Chesapeake, Va.