Headstring News
Upsets Rare as U.S. and Filipino Stars Advance
Oct 18, 2007, 11:54 AM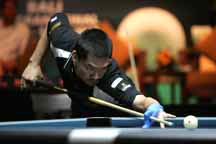 Alcano faces Reyes in the showcase match of the fourth-round.
When the first rack was broken at this year's U.S. Open 9-Ball Championship, 233 players were undefeated. As play resumed Thursday morning, only 32 remained with unblemished records.

The top American players, for the most part, have managed to advance without major problems. Johnny Archer, after posting back-to-back 11-0 wins, finally lost a rack but easily beat Michael Stansbury, 11-6. Rodney Morris and Mike Davis, Mosconi Cup teammates 11 months ago, will square off, with the winner facing the winner of Shannon Daulton and Corey Deuel.

Shane Van Boening has also advanced without much difficulty. Another of this year's hottest players, Louis Ulrich handed former champ Alex Pagulayan his first loss.

What's suprising to nobody, the Filipinos have dominated the early rounds. Out of the eight big names from the Philippines, Pagulayan was the only one to lose. Efren Reyes, Francisco Bustamante, Jose Parica, Dennis Orcollo, Rodolfo Luat, Warren Kiamco and Lee Van Corteza remain unbeaten.

Just as a few of the American favorites are set to battle one another, the Filipino crew will beat up on each other. Corteza takes on Kiamco with the winner facing the survivor of the Ronnie Alcano/Efren Reyes match.

Play continues at the Chesapeake Convention Center in Chesapeake, Va., through Saturday, Oct. 20. All matches are winner-break, race-to-11, with the final scheduled for a single set.