Headstring News
U.S. Open champ Van Boening joins American Mosconi Cup squad
Oct 23, 2007, 1:08 PM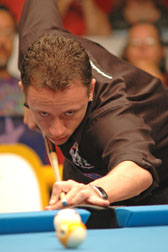 Van Boening will attract plenty of attention at the Mosconi Cup in December.
On the heels of a dominant performance at the U.S. Open 9-Ball Championship, Shane Van Boening will join the American Squad at the 14th annual Mosconi Cup, according to event promoters Matchroom Sport.

Van Boening will join Rodney Morris, Johnny Archer and Earl Strickland on the U.S. team, with the fifth spot to be filled after the World Pool Championship in early November.

A favorite to be named to the Mosconi squad before the U.S. Open, Van Boening took his spot among the world's elite with his undefeated run through the 233-player field. The win solidified an already incredible breakout year for the 24-year-old native of Souix Falls, S.D.

After finishing second at the EnjoyPool.com 9-Ball Championship in May, Van Boening won the World 10-Ball Championship later that month. Van Boening then took second at the World Summit of Pool in June.

Virtually a rookie on the world pool circuit, Van Boening will be making his Mosconi Cup debut alongside a trio of seasoned veterans in Morris, Archer and Strickland.

Matchroom Sport also announced that Niels Feijen will join the European team as its fourth member. Feijen has had quite a year himself, winning the Derby City Classic 9-Ball event and International Challenge of Champions.

The Dutch superstar will be making his fourth appearance in the Mosconi Cup.

The Americans have dominated the match-play event, only losing twice in 13 years. The Mosconi Cup is scheduled for Dec. 13-16 at the MGM Grand in Las Vegas.