Headstring News
Hotlanta: Southern Classic events wrap up over the weekend
Oct 29, 2007, 11:12 AM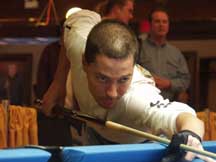 Schmidt won plenty of close matches on his way to the 10-ball title.
A week after becoming a "former" champion with a 65th-place finish at the U.S. Open, John Schmidt showed he is still plenty relevant when discussing the top American pool players. At the Southern Classic Open 2, Schmidt snapped off the $10,000-added 10-ball event, outlasting Shawn Putnam, 9-4, in the final.

As the diffusion of talent from the U.S. Open continued, many top players were in Atlanta, Ga., for the Southern Classic — held Oct. 20-28 at Mr. Cues 2.

The first event was a $2,500-added amateur 9-ball tournament. Matt Reed went unbeaten through the 97-player field, facing only one real test on his way to winning $2,410. Besides a hill-hill match with Billy Tyler in the third round, Reed did not let an opponent past three in the race-to-7 format.

The 8-ball event, featuring $3,000 in added money, was won by Ignacio Chavez. A fixture on the Blaze 9-Ball Tour, Chavez topped Clint McCullough in the hot-seat match, 9-4.

From the left, Louis Ulrich overcame an earlier loss to Chavez to work his into the final. Posting wins over Schmidt, Johnny Archer, Larry Nevel and Stevie Moore, Ulrich continued to raise his profile after an impressive 5th-place finish at the U.S. Open.

Chavez and Ulrich traded racks in the final, meeting at 6-6, 7-7 and 8-8. At hill-hill, Ulrich looked capable of running out, but misfired on a nearly straight shot. Chavez then navigated his way through the stripes to take the title, 9-8.

Larry Nevel took the one-pocket tournament with a 5-4 win over Sylver Ochoa. Nevel took second in the Carolina Open one-pocket event a week before the U.S. Open, then added this title a week after — nice bookends to an impressive 9th-place finish at the U.S. Open.

The final, and most lucrative, event at the Southern Classic Open was the 10-ball tournament. Schmidt ran through the winners' bracket to take the hot-seat. Opposite him, Putnam overcame an early loss to Ulrich to win four straight on the left side of the bracket.

The final was all Schmidt, who coasted to a 9-4 victory, earning $5,500 for first place.

Chavez won $1,500 for the all-around championship after posting high finishes in all three events. Helena Thornfeldt earned $500 as the women's all-around champion.