Headstring News
All Aboard: Final spots in World Pool Championship fill out
Nov 1, 2007, 1:34 PM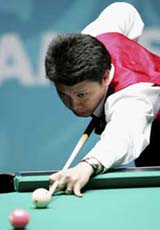 Antonio Gabica was awarded a wildcard spot when Shawn Putnam withdrew. (Photo courtesy of Matchroom Sport.)
As the world's best pool players begin trickling into the Philippines for the World Pool Championship, the final spots in the 128-player field are being slotted through qualifiers and wildcards.

Qualifying events for the Championship — held Nov. 3-11 at the historic Araneta Coliseum in Quezon City, Philippines — began on Saturday, Oct. 27. Two tournaments have been held daily, with the winner of each event earning a spot in the main event.

Through nine events, the cache of Taiwanese hopefuls has proven the class of the qualifying rounds. Taiwan has claimed four more entries through qualifying, with another six Taiwanese players finishing in second, one win from advancing to the World Championship.

Taiwan's Wu Yu-lin, already a three-time world junior champion at 18 years old, defeated countryman Chien Ching-ju in a heart stopping hill-hill final in the third qualifying event. Ko Pin-yi, another 18-year-old from Taiwan, followed suit, defeating Lu Hsung-chen in the next tournament.

The Philippines bolstered its contingent with two late wins by Roberto Gomez and Leonardo Andam. Gomez, who finished third in an earlier qualifier, had a stellar performance in the 2006 World Pool Championship; he advanced out of group play with the best record of any player. He went undefeated, including an 8-2 victory over top-seeded Corey Deuel.

Due to health concerns, Shawn Putnam, who was recently diagnosed with diabetes, has withdrawn from the tournament. Tour organizer Matchroom Sport awarded a wildcard spot to Antonio Gabica, who will replace the American in Group 4. Gabica, who took the gold medal in 9-ball at this year's Asian Games, last competed in the World Championship in 2004.

John Schmidt and Troy Frank have also withdrawn from the tournament, leaving the U.S squad with 11 players hoping to bring the title Stateside.

China boosted its representation with Dang Jinhu's triumph in the ninth qualifier. For the Chinese, Li He-wen will be the favorite to make a late-round push, after his surprise third-place finish at the 2006 Championship and victory at September's World Cup of Pool with Fu Jian-bo.