Headstring News
WPC Day Two Roundup: Ortmann, Immonen Join Fray
Nov 4, 2007, 10:27 AM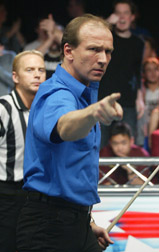 Look out — Former world champ Ortmann's still in it.
With half of the 16 groups having completed their round one schedule, 32 players have now assumed their positions in the last 64 knock out stages at the 2007 Philippines World Pool Championship at the Araneta Coliseum, Quezon City, Manila.

Taking place over nine days, the event is televised live for over 60 hours by ESPN Star Sports of Asia and Sky Sports in the UK as well as being available over the internet on www.worldpoolchampionship.com

A further four groups played today in a total of 40 matches in the $400,000 event. The format is groups of eight players competing in double elimination, with two wins seeing you through to the next round and two losses spelling defeat.

The most impressive showing of the day came from Francisco Bustamante of Tarlac who ran seven straight racks against Jeong Young-hwa of Korea en route to a 9-0 whitewash. 'Django' had earlier beaten South Africa's Zbynek Vaic.

Also in Group 9, Oliver Ortmann was one of a trio of former champions who made their way through with 2-0 records. That impressive list also included Mika Immonen (Finland) who sealed his passage with an ill-tempered win over America's Jeremy Jones, and the Philippines' Alex Pagulayan.

Other Filipinos advancing were Ramil Gallego who hammered Asian 9 Ball Tour winner Chang Jung-ling of Taiwan 9-1 to be the top seed from Group 7.

Lee Van Corteza also went through but not before dropping a game to battling Serbian Goran Mladenovic. The Pinoy star dumped Jeremy Jones out of the competition in the final match on the Group 12 losers' side.

For Mladenovic it was a day to remember. Following his against-the-odds win over Corteza, he was well beaten by rising star Karl Boyes of England.

However, he made it through at the last with a gritty showing against Tyler Edey (Canada), that saw Edey dog a 9 ball to gift the Serb a 9-7 win.

Other notables on their way home include 2004 World Pool Championship runner-up Chang Pei-wei (Taiwan) and quality Filipino Antonio Lining.

The remaining 64 players compete on Monday and Tuesday, with the last 64 commencing on Wednesday, Nov. 7.

Play commences Monday in Manila as a further four groups battle it out.