Headstring News
WPC Update: No margin for error as single-elimination play begins
Nov 6, 2007, 5:37 PM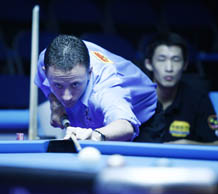 Van Boening faces crowd-favorite Gabica in the first round of the knockout stage.
Four days in and half the field gone, the World Pool Championship enters the knockout stage. Only one 64-player bracket remains, with single-elimination play continuing through Sunday until a world champion is crowned.

Held at the prestigious Araneta Coliseum in Quezon City, Philippines, the Championship began on Saturday, with 16 groups of eight players in double-elimination brackets. The formula to advancing was simple: Win two before losing two.

The Filipino players, with the hometown crowd and a recent history of success on their side, pepper the bracket with 13 names on the board. Reigning champion Ronnie Alcano, fresh off a runner-up finish at the U.S. Open, advanced without incident, as did favorites Francisco Bustamante and Marlon Manalo.

Efren Reyes, a favorite in any event he enters, stumbled in his opening match, dropping his opening-round match to Japan's Kenichi Uchigaki, 9-2. The Magician rebounded to win his next two, escaping an early exit.

The 11-player contingent from the U.S. struggled, with only four players surviving the group stage. U.S. Open champion Shane Van Boening, arguably the hottest player on the planet, leads the U.S. hopefuls, with Earl Strickland, Corey Deuel and Charlie Williams rounding out the quartet of Americans.

Holland's Niels Feijen might be the best European hope, after an impressive 2007. Though, Oliver Ortmann of Germany and Finland's Mika Immonen — both former champions — can never be overlooked. Ralf Souquet, last year's runner-up, also appears ready for a deep run.

For an American or European player to capture the hardware, it's clear that the path to victory will go through the Filipinos — and Taiwanese. Ten players from Taiwan remain in the field of 64, second most only by the Philippines.

Wu Chia-Ching, the 2005 world champion, leads the Taiwanese, joined by Yang Ching-Shun and Chang Jung-Lin, who both dominated this year's Guinness 9-Ball Tour, Asia's premiere pro circuit.

Single-elimination play begins Wednesday and will continue through the weekend.