Headstring News
WPC Update: Favorite sons Reyes, Alcano, Manalo sent home
Nov 7, 2007, 1:34 PM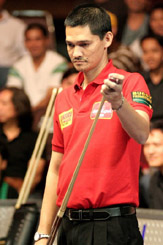 Alcano will not repeat as champion, losing his first match in the knockout stage.
The first round of the knockout stage of the World Pool Championship could not have gone much worse for the pool-crazed Filipino crowd. Three of the hometown favorites were sent packing, as Efren Ryes, Marlon Manalo and Ronnie Alcano all lost.

Reyes, who never looked comfortable in any of his three matches, fell behind Konstantin Stepanov, 3-0. With a 7-5 lead, Stepanov capitalized on a weak safety from Reyes. Europe's top-ranked player, Stepanov then ran two more racks for the 10-5 upset.

Alcano and Manalo couldn't make much more of their matches. Manalo was completely dominated by Radoslaw Babica of Poland, 10-1; and Alcano was upset by Englishman Daryl Peach, 10-6.

For the Americans, the first round offered mix results. Former champion Earl Strickland lost a close match to Vietnam's Luong Chi-Dong, 10-8. Shane Van Boening, however, appears more than willing to assume the role of America's leading shooter. The U.S. Open champion outlasted Antonio Gabica of the Philippines, 10-7, and will face Hungarian Vilmos Foldes in the round of 32.

Marquee matches in the second round include Corey Deuel, the only other American alive with Van Boening, against Taiwan star Chang Jung-Lin, and a clash of Europe's elite with Ralf Souquet facing Niels Feijen.

Francisco Bustamante, after yet another one-sided match, is in top shape. The Filipino legend pasted David Alcaide in his first-round match, 10-1.

Inside the Araneta Coliseum in metro Manila, the round of 32 will be race-to-10. When 16 players remain, races will be upped to 11, before the final race-to-17 on Sunday.