Headstring News
Rakin Makin' History as Back-to-Back World Champion
Nov 30, 2007, 11:03 AM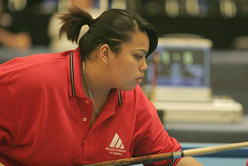 The 19-year-old Rakin cruised in the final, winning 9-2.
Mary Rakin has won her second World Junior Championship title in as many years. On Friday, Rakin easily won both her semifinal and final matches, besting two girls from the host country of Germany to make it back-to-back world championships.

In the girls division, 19 players from six continents met in WIllingen, Germany for the three-day event. Opening rounds would be true double-elimination races-to-7. When only eight remained, it would be single-elimination matches to 9.

Rakin, a 19-year-old from Daly City, Calif., who went undefeated to win last year's title, nearly got bounced from this year's tournament much earlier than anyone expected.

She struggled in her first match, losing to Denise Wilkinson of New Zealand, 7-4. Then, in her first match on the left side, Rakin narrowly escaped elimination with a 7-6 win over Anja Wagner of Germany.

With one under her belt, Rakin caught stride working her way into the quarterfinals with two 7-2 wins, one of which sent U.S. teammate Briana Miller out of the tournament.

In the single-elimination rounds, Rakin's road to the title would go directly through the host country. Her quarterfinal match went hill-hill, with the American outlasting Germany's Kristina Schagan, 9-8.

This proved to be the last test for the world champion. Rakin closed out her next two matches by showing she has a second gear that couldn't be matched.

In the semifinal against Kim Witzel, Rakin took the final five racks for a 9-4 victory. Then, in the final against Tina Buhnen, Rakin, with a 3-2 lead, claimed the next six racks for the win.

in 2006, Rakin became the first American to win a WPA junior title, topping WPBA pro Anna Kostanian in a hill-hill final. This year, she was the only American player to make it to the quarterfinals.