Headstring News
IPT to Stage Strickland-Archer Challenge Match
Dec 7, 2007, 5:43 PM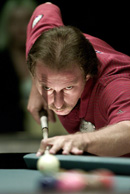 The return of the IPT will feature Strickland and Archer squaring off in 8-ball.
The International Pool Tour announced this week that it will host its first event since 2006's infamous IPT World Open 8-Ball Challenge. On December 19, Johnny Archer and Earl Strickland will play an 8-ball race-to-15 challenge match.

The event will take place in Chicago, with a live broadcast feed available to the public on the IPT's Web site, www.internationalpooltour.com. The broadcast will be completely free to the public. (Viewers must register with the IPT site, but this can be done without charge and only requires an e-mail address.)

The event is slated to begin at 8 p.m. (EST) on Wednesday, Dec. 19. Mike Sigel and Grady Mathews are scheduled to provide commentary.