Headstring News
Team Europe Digs Itself a 4-1 Hole in Mosconi Cup Opener
Dec 13, 2007, 9:48 PM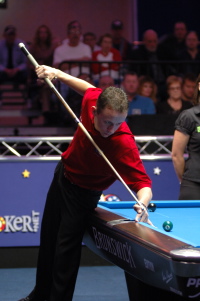 Shane Van Boening
It's do-or-die for Team Europe on Friday at the 14th Annual Mosconi Cup, after a poor showing on the first day of play that already has the team in a 4-1 hole.

The Ryder Cup-style international pool tussle kicked off Thursday morning at the MGM Grand in Las Vegas with a lot of questions hanging over both teams. The veterans for Team USA – Johnny Archer, Earl Strickland, and Rodney Morris – all had posted lackluster results in the last year. Team Europe was bringing a couple Cup rookies – Tony Drago of Malta and Konstantin Stepanov of Russia.

By the end of the afternoon, all five of Europe's team members were responsible for lapses and misses they'd love to take back. While a bit shaky themselves, the American shooters were able to take advantage of Europe's errors to win four of five matches.

"We have newcomers," said Team Europe coach Johan Ruijsink. "We tried to get them loose. … But everything went wrong at the beginning, and then they got nervous. We tried to settle them down, but it's not as easy as that."

In the opening match, a five vs. five contest, Mosconi veteran Ralf Souquet fouled, failing to drive a ball to a rail, with the U.S. on the hill, 5-4. The Americans cleaned up to get on the board first. Souquet redeemed himself in the next match, a doubles tilt with Niels Feijen against Cory Deuel and Johnny Archer of the U.S. Souquet ran out for the 6-4 victory.

In the marquee matchup of the afternoon, 2007 U.S. Open champion Shane Van Boening faced off against 2007 World 9-Ball titlist Daryl Peach. Van Boening, also a Cup newcomer, took an early 3-1 after a loose safety from Peach and a bobbled 8 ball. Peach then broke dry twice in the alternating-break format, leading to runouts for his opponent. The final score was 6-2, giving the U.S a 2-1 lead.

Van Boening looked the best of all the players so far, and showed no sign of jitters. "I'm just trying to have fun," he said. "That's what you think about when you play pool. If you don't have fun, you're going to miss."

The fourth match was a comedy of errors, as doubles partner Corey Deuel and Earl Strickland backed into a 6-5 win against Drago and Stepanov. Europe was two balls from victory when Stepanov committed the last of many position errors in the match. Drago, with a penchant for rushing his shots, wailed on the 8 but missed. The Americans ran out, padding the team's lead to 3-1.

In the Captain's Choice singles match to follow, Morris jumped to a 5-0 lead against Feijen after the blond Netherlander clanged a couple balls off the pockets. Morris' 6-1 victory sealed a sad day for Europe.

"We know what we did wrong, and we'll do it better tomorrow," he said.