Headstring News
Drago plays hero at Mosconi Cup as Europe knots score, 5-5.
Dec 14, 2007, 7:53 PM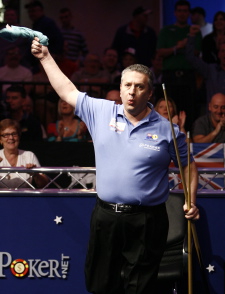 Tony Drago
In one of the most stirring and unexpected comebacks in Mosconi Cup history, Team Europe drew even with the Americans on Friday by riding its most improbable hero – quick-shooting Tony Drago of Malta.

Drago won both of his singles matches Saturday – squeaking past Rodney Morris, 6-5, and crushing Shane Van Boening, 6-2 – and provided a badly needed spark for the Europeans at the annual Ryder Cup-style 9-ball tussle between Europe and the U.S.

"I'm not used to it," the hefty snooker star said of his role as hero. "I either play rubbish or brilliant. Today, I was brilliant. When I get in a rhythm, it's hard to stop me."

Led by Drago, Europe won four of five matches on Friday at the MGM Grand in Las Vegas, jumping from a 4-1 hole on Thursday to a 5-5 tie at the end of Friday.

Drawing up his lineup at the beginning of the day, Team Europe coach Johan Ruijsink took a gamble by giving both singles slots to Drago, arguably the weak link on the European team despite his wealth of experience. By doing so, he would load up the three scotch-doubles slots with his best players.

"To be honest, [Drago] didn't know how to behave as a team player yesterday, so I had to pull him out," Ruijsink said, alluding to Drago's lack of tact regarding play on Thursday. "It was a gamble, because if he plays well, he's a threat to anyone. And he played as good as anyone."

The first segment of the strategy worked in the first match of the day, as 1996 world champion Ralf Souquet and 2007 world champ Daryl Peach steamrolled the American team of Earl Strickland and Shane Van Boening, 6-0.

In the second match, the quick-shooting Drago, who often appears to hit the cue ball just at the moment it comes to rest after the previous shot, fell in a hole fast against Morris, 5-1. But Morris made a couple errors to let Drago back in it, and then the Maltese "Tornado" got in a break-and-run groove that led to five straight game wins.

The European practice room erupted in cheers. The win took some heat off the next doubles team – Niels Feijen of the Netherlands and Russian Konstantin Stepanov. Against Johnny Archer and Corey Deuel of the U.S., they kept the Americans on their heels with tight safeties and pinpoint position play. The Americans' one game win in the 6-1 match came after a fluked-in 1 ball from Deuel.

"We felt so positive coming in," Feijen said. "We were so pumped up from Tony's win."

"We couldn't do anything but kick at the ball after the first game," said Archer.

With the overall match record tied at 4-4, Team USA was relying on hot-stick Van Boening to continue his sharp play and put America back in the lead. But against Drago, he made a few questionable decisions on shot selection. In the fifth game, he had ball in hand twice after Drago fouls and still failed to run out. Drago took a 3-2 lead. He won the next three racks, shooting his way out of a couple Van Boening safeties, for a 6-2 victory.

The final match of the day was a scotch doubles tilt between the team of Morris and Strickland and the return of the Souquet/Peach juggernaut. Badly needing a win to wash the bitter taste of the day from the team's palate, Morris and Strickland kept it close and came back to tie it, 5-5. Morris nailed the break shot and produced a wide-open rack. After a tricky reverse cut on the 1 by Strickland, the frequent teammates made quick work of the layout for the 6-5 victory.

"It was very important to not only stop the momentum, but a whitewash all day dampens your spirits," Morris said. "I'm really proud of Earl. He came with some great shots."

Now the score is tied in the race-to-11 contest, effectively making it a race-to-6. Play will continue Saturday, so Team USA has the night to figure out what went wrong.

"Things didn't roll our way today, but we didn't play well either," said Strickland.