Headstring News
New and Improved? IPT Holds First Event in 15 Months
Dec 20, 2007, 11:42 AM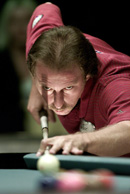 Strickland called for widespread support of the IPT after the Challenge Match.
In a third-floor television studio in Chicago's ritzy River North neighborhood, Johnny Archer and Earl Strickland played in the IPT's first Challenge Match. The live broadcast was available free to the public through the IPT's Web site.

Archer beat Strickland, 15-12. But more important than the on-table action, the match represents a new incarnation of the IPT — a smaller, more manageable IPT.

Entering the match, IPT Tour Director Deno Andrews admitted that any future plans for the IPT would be made after the Dec. 19 match. With no major tournament events on the horizon, IPT officials are exploring new avenues for producing events.

"Obviously, after the financial troubles we've been though, we had to look at different ways to have a sustainable business model," Andrews said, referring to the challenge match format. "This is a good way to gain a little momentum in the right direction."

With players still due a final payment from the 2006 World Open 8-Ball Challenge, the IPT is not actively planning any major tournaments. Instead, the one-on-one format appears the most feasible way the IPT can continue hosting events, at least in the short term.

"If this is the way to get things going, to get sponsors, to get [the IPT] back on the map, then I agree with it," Archer said.