Headstring News
IPT Attempts Second Online Challenge Match
Jan 16, 2008, 5:49 PM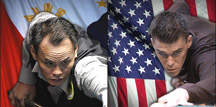 Bustamante will meet Deuel in the "East vs. West" bout.
The International Pool Tour will take a second swing at broadcasting a live online challenge match via its Web site on Wednesday, Jan. 23, when Francisco Bustamante of the Philippines and American Corey Deuel face off in front of cameras.

The "East vs. West" match will be aired at 8 p.m. EST on the tour's site, www.internationalpooltour.com. There will be no cost for watching the match, although viewers will be required to register as basic members of the site, without charge.

The contest promises a contrast in styles — aggressive vs. strategic — although Bustamante is a more shrewd player than he often is given credit for, and Deuel's pocketing skills are not to be underestimated.

The tour's first online challenge match took place on Dec. 19, pitting Johnny Archer against Earl Strickland. Tour officials reported attracting in the neighborhood of 8,000 viewers for the match, although overtaxed servers created viewing problems for some audience members just prior to the match.

The online format is a far cry from the multimillion-dollar tournaments hosted by the IPT in 2006, before the tour imploded. Tour officials say that that the challenge-match format is, at least for the short-term, the most feasible way to continue hosting events.