Headstring News
Robles Launches Predator 9-Ball Tour in New York Area
Jan 18, 2008, 11:12 AM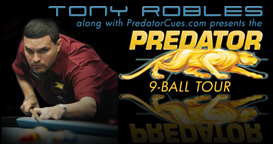 Veteran professional Tony Robles has joined with Predator Cues to launch a new 9-ball tour in the New York tri-state area.

The new tour will hold its debut event on Feb. 2-3 at Raxx Pool Room in West Hempstead, N.Y. The 2008 season schedule features stops in New Jersey and Connecticut, as well as various poolhalls in and around New York City.

"My goal in starting this new tour was to provide more tournaments for players around our area to compete in highly skilled events to boost the sport of pool," said Tony Robles. "I want to help keep the sport alive and thriving in New York. Pool is very important to this area and the more tournaments players can compete in, the better chance the sport will have to grow and prosper."

One of the stated goals of the tour is to help promote pool in a positive light, with the hope of improving the reputation of and enthusiasm for the sport.

Entry fees for each event range from $100 for professional players to just $40 for juniors. There is also a $20 annual registration fee.

The format will be double-elimination race-to-9, with alternate breaks. All finals will be one race-to-11 set.

For more information, visit www.predator9balltour.com — the Predator 9-Ball Tour's official Web site.