Headstring News
Music City Two Step: Van Boening Wins Open, Midnight Madness
Jan 21, 2008, 11:45 AM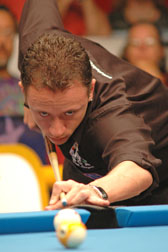 Van Boening took home $7,000 by winning the two biggest events in Nashville.
After playing what seemed like 24 hours a day for nine days straight at the Derby City Classic, Shane Van Boening had a built-in excuse for a poor showing at the Music City 9-Ball Open the following weekend.

Too bad for the field, he wouldn't need it. Van Boening won everything he could at the tournament, held Jan. 17-20 at JOB Billiards in Nashville, Tenn.

The 9-ball division featured a field of 104 players, many making the short trip from Louisville, Ky. Gabe Owen, Alex Pagulayan and John Schmidt looked to build momentum after strong performances at Derby City.

Owen, the reigning Music City champ, was bounced from the tournament with losses to Johnny Archer and Mike Jones. Archer didn't fare much better, moving to the left after an 11-4 loss to local hotshot Josh O'Neal and then was eliminated by Jonathan Hennessee, 11-8.

Van Boening lost an early match to Cliff Joyner, but then ran hot through the left side of the bracket. He topped Pagulayan in the fourth-place match, 11-10, before blanking Ronnie Wiseman, 11-0.

Tom D'Alfonso was waiting for the U.S. Open champ in the hot-seat. Van Boening was able to squeak out two tight sets for the title, posting 11-9 and 11-8 wins. He pocketed $3,000 and, it being the Music City Open and all, a classic Gibson guitar.

At midnight on Saturday night (or Sunday morning, to be exact), eight players ponied up $500 a piece for a winner-take-all Midnight Madness tournament.

Johnny Archer and Van Boening met in the single-set race-to-11 final. The two had recently hooked up in the Reno Open final, and this proved to be a repeat of that match.

Van Boening kept Archer in his seat, slapping up an eight pack before the Scorpion had a chance at the table. Archer collected a few racks, but eventually fell by an 11-5 score. Van Boening won another $4,000 for the mini-tournament.