Headstring News
Nevel Nabs Great Southern Billiard Tour Finale, POY Honors
Jan 28, 2008, 12:40 PM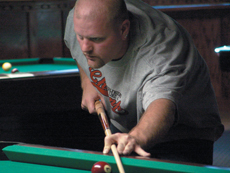 Nevel was on fire in the final as he dominated Ferrell, 15-3.
Anyone who has kept an eye on the Great Southern Billiard Tour in its inaugural season shouldn't be too surprised at how the Tour Championship played out. Larry Nevel won his sixth tour event of the season, tip-toeing through the left side of a bracket laced with world-class talent.

The $10,000-added championship — held Jan. 24-27 at the Diamond Billiard Club in Chattanooga, Tenn. — attracted big names like Shane Van Boening, Alex Pagulayan and Johnny Archer. But on the GSB Tour, nobody is as big as Nevel, who had won three consecutive tour stops heading into the championship.

After easily winning his first two matches, Nevel was tripped up by Jesse Middlebrooks, 11-5. Middlebrooks, who posted wins over Van Boening, Nevel and Alex Pagulayan, finished in third.

Winning six straight on the one-loss side, Nevel then avenged his loss to Middlebrooks, moving into the final with a 11-7 win.

Sparky Ferrell, a regular on the GSB Tour, was in the hot-seat awaiting Nevel. In the one-set race-to-15 final, Nevel was absolutely unstoppable. In a dominant 15-3 victory, Nevel broke and ran 9 racks and also buried two 9 balls on the snap.

Nevel's sixth win on tour was also his most profitable with a $3,000 first prize. Finishing the season atop the money list with more than $14,000 in winnings, he also took home the Player of the Year award.