Headstring News
Archer Tops Huge Field at Jay Swanson Memorial
Feb 11, 2008, 1:53 PM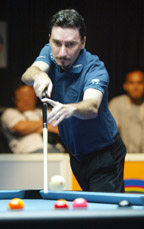 Archer went undefeated through a 181-player field.
Over the weekend, an enormous field of 181 players gathered at Hollywood Billiards in Los Angeles for the 12th Annual Jay Swanson Memorial 9-Ball Tournament.

Johnny Archer and Dave Hemmah met in the hot-seat match as the final two unbeaten players. The Scorpion sent Hemmah to the left side with an 8-6 victory.

In the losers-side final, Hemmah faced Arizona's Scott Frost. Racing out to a 5-1 lead, Frost missed the 7 ball. From there, Hemmah took six straight for the 7-5 comeback victory.

From the beginning, Archer was in full control in the single-set race-to-11. He coasted to an 11-7 title-clinching win.

Archer took home $2,800 with the win in the $4,500-added event. Hemmah earned $1,900 for his second-place finish.