Headstring News
Local APA Chapters Sponsor Fisher, Robles
Feb 19, 2008, 5:27 PM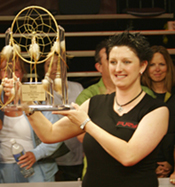 Fisher (top) will be the representative for the Charlotte-area APA league.
Two local chapters of the American Poolplayers Association (APA) Pool Leagues have recently announced sponsorship agreements with Kelly Fisher and Tony Robles.

In late December, the Charlotte Metro APA Pool League reached a deal with Fisher, currently the fifth-ranked player on the WPBA Classic Tour and Charlotte resident.

Just a month later, the APA Pool League of Brooklyn/Queens struck a similar agreement with Tony Robles, a top American professional.

Robles is a prominent figure in the New York City pool scene. He founded the new Predator 9-Ball Tour, a New York tri-state area tour in its first season.

Both players have agreed to provide lessons to new teams that join the two pool leagues.

The Charlotte area is a hotbed of league activity, with more than 5,000 players competing in the Charlotte Metro leagues. Also, many top professionals live in the area.

"Kelly is one of the best up-and-coming young players in the game," said K.T. Thompson, the Charlotte league operator. "Because she now lives right here in Charlotte, we felt this sponsorship partnership was a great fir that could benefit the entire community."

Similarly, the Brooklyn/Queens APA chapter is flourishing, with just under 1,500 players.

"Teaming up with Tony is a dream come true for us and our players," league operator Ross Banfield said. "He s a legend of the game and a true gentleman who enjoys sharing his passion with others."

More information on the APA can be found at www.poolplayers.com .