Headstring News
Turning Stone X Rolls into the Weekend
Feb 22, 2008, 11:53 AM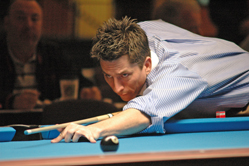 Stevie Moore is gunning for his first major title of 2008.
The 10th rendition of Mike Zuglan's Turning Stone tournament is under way in upstate New York. The $25,000-added event — held at the Turning Stone Hotel & Casino in Verona, N.Y. — is set to wrap up Sunday evening.

The 128-player field has plenty of regional talent and a handful of top-tier pros, though the international contigent is a bit limited compared to past tournaments.

In the biggest first-round matchup, Saez met Rodolfo Luat of the Philippines. Saez, ranked eighth on the UPA, squeaked out a hill-hill victory over the cagey international.

The two Turning Stone events in 2007 both provided a platform for impressive runs from players who were — at the time — unknown.

Louis Ulrich, who was runner-up in the August event, is eyeing another run through the winners' bracket. He posted a 9-0 whitewash of Wayen Cooperider in his first match at this weekend's event.

John Morra, the teenager atop the Canadian 9-Ball Tour points rankings, finished runner-up to Johnny Archer at last February's event. This time around, however, Morra stumbled out of the gate. He drew the always-dangerous Dennis Hatch in the first round and dropped the match, 9-7.

The other big names to advance include Archer, Stevie Moore, Mike Davis and Mika Immonen.