Headstring News
Archer Spears Yet Another Turning Stone Title
Feb 25, 2008, 12:03 PM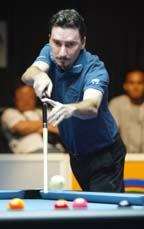 Archer edged Sossei twice for the title.
In the last 18 months, Johnny Archer has adopted the Turning Stone Resort as his vacation home. The Georgia native has snapped off three of the last four Turning Stone events, including this weekend's event with an undefeated run though the 128-player field.

Held Feb. 21-24 in Verona, N.Y., the Turning Stone Classic X featured a few internationally stars — Mika Immonen, Archer, Rodolfo Luat — among the field of top regional talent.

Archer, who won this biannual event in August 2006 and February 2006, only had one close call on Saturday, escaping a 9-8 match with Dave Fernandez.

On the opposite side of the winners' bracket, Jeremy Sossei dominated his early-round matches, never allowing an opponent past 5 games in the race-to-9 sets until Sunday's semifinal with Ronnie Wiseman.

Archer topped Tony Chohan in his winners-side semifinal to meet Sossei for the hot-seat. Sossei jumped out to an early 6-2 lead, but the Scorpion came roaring back for a 9-7 win.

On the left side, Dennis Hatch was making a strong run. He topped Louis Ulrich, Chohan and Immonen to face Sossei in the left-side final.

Sossei was unaffected by his loss to Archer, and he sent Hatch out of the tournament in third place, 9-2.

It took Archer nearly three hours, but he eventually pulled away in the single-set, race-to-13 final. Taking his third Turning Stone title in four tries, Archer posted a 13-8 win over the surprising Sossei.