Untold Stories

Previous Page Page 2 Next Page

Untold Stories: Puckett Haunts Texas Poolhall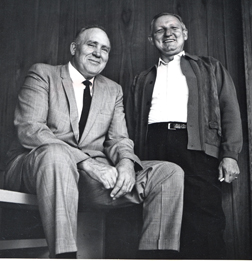 Puckett, left, with Eddie Taylor, was mainly known for his one-pocket prowess.
LEt's begin with a quick biography.

Puckett was born on April 17, 1911, in Prattsville, Ark., but moved to Fort Worth at about age 5 after his father died in a logging-train accident. He attended Fort Worth's Vocational High School, where he excelled at basketball. And he was a regular at Fort Worth's Panther's Boys Club, where he excelled at 9-ball. After dropping out of school, Puckett went on to Hollywood, where he got hired on as a body double for actor Wayne Morris in the original version of "Kid Galahad." That was in 1936. Puckett also spent some time in the boxing ring.

Although mostly known for one-pocket, Puckett was also skilled at other forms of pool. He won the national 9-ball title in 1960, and was a longtime road partner with Ronnie Allen. He competed regularly in the Johnston City events, although he never won there. In 1979, Puckett was interviewed by Mike Wallace for the "60 Minutes" news program. Texas Monthly magazine published a fawning profile of Puckett not long afterwards.

Puckett became a fixture at Fast Freddy's in his later years, where the regulars still speak about him with an agitated enthusiasm that borders on worship. He was known during these years for his love of fishing, pretty women and pool - all of which he pursued with equal vigor. In 1990 Puckett suffered a stroke. In 1992, at the age of 81, he died. He was buried out at Fort Worth's Laurel Land Memorial Park. Not long after that, the regulars at Fast Freddy's started reporting very odd things at the Southside poolhall.

"I sat here at 4 in the morning and heard the door open and close and nobody was there, and I said, "Damn it, Puckett is walking around here again.'"

Richard McElroy, a longtime regular at the smoke-filled poolroom, gets quite agitated as he tells the story. He's a skinny fellow, all arms and elbows, and everything about him appears to move at random when he speaks of Puckett's ghost.

"A couple of girls have been right by him, and they get a cold feeling, like he's standing over their neck," continued McElroy. "It's happened a couple of times. I've been here when the bartender was doing her liquor count and she was holding up a bottle and looking at it, and he came breathing down her neck. Puckett is definitely running around here."

Fast Freddy's is laid out in two main sections. The portion to the north holds nine tables, and there's a big green neon sign that identifies it as the "Utley J. Puckett Room." To the south there's another 10 tables, plus two smaller barboxes. Dividing the north and south is an age-worn wooden bar. The bar is in the shape of a horseshoe.

McElroy and the others say that the weird occurrences start most noticeably when somebody moves Puckett's ripped-up brown leather chair, which on most days stays near the bar. The chair is pushed up against table 19, Puckett's favorite table, and "he just doesn't like it when you move it from that spot," said McElroy.

One former manager became so unnerved that he actually brought in a clairvoyant. This would have been three or four years ago. The psychic sat at the horseshoe bar for an hour or two, explaining that she was attempting to make contact with the spirits. It's this woman who first claimed to feel Puckett's presence around the old chair, and it's this woman who warned patrons against moving it.

"They had a girl who could channel dead people - they wanted me to get in there, but I didn't want to get into it," remembered Raithel, who was one of several witnesses. "I was sitting right here, and they were doing what they were doing, and she was going into a meditative state to have Puckett speak to her. I don't know how successful they were - I am a believer in God, but I also believe that stuff is possible if God wants it to happen."

I interviewed other witnesses, as well as the manager who brought in the supposed clairvoyant. Several expressed a bit of discomfort when recalling the events of that day. This is, after all, the heart of Southern Baptist country. But many said they nonetheless understood the logic of inviting her in. That's because many agree that there's something not quite right at Fast Freddy's.

"For instance, there's been this really weird stuff happening in the office," volunteers one longtime employee, who didn't want to be quoted by name. "Sometimes there will be the money put away, and then you come back and it's sitting in stacks. And I remember one waitress moving the chair, and she wasn't supposed to, and every time she walked over, the cues would fall and hit her on the head. It's always like 3:30 or 4 in the morning when this stuff happens."

Previous Page Page 2 Next Page

Top