Untold Stories

Previous Page Page 2 Next Page

Untold Stories: Mosconi Made World Debut by Weird Fluke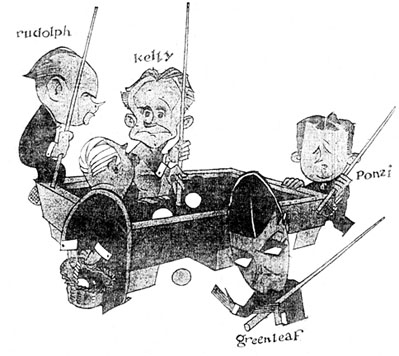 The 1933 World Championship was splashed across the front pages of Chicago sports sections. The Chicago Daily News sent a caricaturist to capture the action.
So that's how it got started: Eddie got sick, the entry fee was already paid. Mosconi won that first real tournament with surprising ease - especially given the format and the competition. Willie recalled that Andrew St. Jean was there, the so-called "Lowell Kid" from Massachusetts, who had been considered the easy favorite to win. St. Jean came in second in the nationals a few years back (he was runner-up only to the great Ralph Greenleaf), and was a well-known exhibition player and gambler. But Willie beat everyone in the tournament - including St. Jean - without a single loss. For the performance Mosconi earned himself $75 and a free pass to the next level: the sectional event at the Strand Academy in New York.

Willie remembers being nervous as hell.

"None of the eight players had ever heard of the brassy little Italian kid," Billiards Digest founder Mort Luby Jr. wrote about the 1933 sectional. "And when he announced that he did not own a cue of his own, they were convinced that Mosconi's victory over St. Jean was a fluke. Andrew Ponzi, the late champion, loaned Mosconi his cue for the youngster's opening match against Onoforio Lauri, the pride of the Brooklyn pool circuit. Lauri broke and then ambled off to the rest room. He returned to find that Willie had run 70 balls in less than six minutes."

Mosconi won that event too. He earned himself another $250 and, even more importantly, entry to the national tournament beginning Oct. 30 in Minneapolis. Willie took the overnight train. What do we know about this event? According to the Minneapolis Star, the top finisher would get $450 and a percentage of the gate. Ten men vied for the title, including locals Harry Wood and Sylvester Schliesman. The total prize money was $3,000, and the tournament would go two weeks, until Nov. 11.

Previous Page Page 2 Next Page

Top