Current Issue

Previous Page Page 2 Next Page >



Breaking Point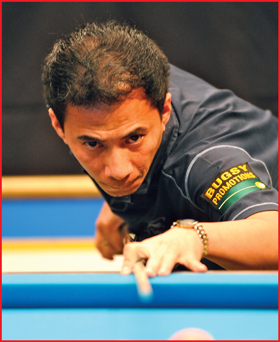 Orcollo couldn't keep up in the final. (Photo by Tony Fox)
BEFORE THE tournament's high-octane final, the story of the tournament was the success of the Filipino contingent - a development as surprising as a cell phone ringing in a silent stadium. But this time around, it was the unlikely, if not unfamiliar characters who shot their way into contention, with 63-year-old Jose Parica and 58-year-old Efren Reyes among the final four on the unbeaten side.

The two leaders of the original Filipino invasion of the 1980s, Parica and Reyes both plodded through the winners-side bracket with a number of close calls. Parica escaped hill-hill sets with Raj Hundal and Scotland's Jayson Shaw. Reyes edged Thorsten Hohmann, 11-9, before outlasting two-time defending champ Darren Appleton, 11-10, in the fourth round.

That hill-hill victory produced the greatest thrill of U.S. Open's first five days. In the case game, Reyes faced a difficult kick on the 4 ball. The pink ball sat on the foot spot with the 9 ball an inch away in perfect line with the side pocket. Reyes kicked into the 4, which banked three rails into the 9 - which then crawled directly into the side pocket for the win.

Famous for how lucky he can be, Reyes really meant it this time. "That was only luck," he said of the match-winning shot. "I tried to bank [the 4] and maybe play safe. The 9 was only luck." His good fortune continued, and Reyes outlasted Wang Can and Dennis Orcollo by 11-7 scores for a spot in the right-side semifinals.

Matched against Van Boening and Alex Pagulayan, respectively, Parica and Reyes were kicked to the one-loss side by their younger challengers. While Parica dropped his next set to a hard-charging Orcollo, 11-4, Reyes outlasted Alcano, 11-9. Alcano and Parica exited tied for fifth place, meaning the Filipinos boasted five of the final six players.

Reyes' win also ensured a spot in the final four - and a match with Dennis Orcollo to open the event's final day. In that Saturday afternoon set, Orcollo remained sharp while the Magician looked worn down by a long week. Orcollo took control of the rematch with an early three-rack lead, which he maintained until the final 9 ball fell for an 11-8 win.

Leaving the ballroom with thoughts that this U.S. Open might have been his last in contention, Reyes was his jovial self. "I don't think I can win this tournament with the Filipinos, the Americans, the Europeans, the Chinese," he said. "I used to be good. Before I was very strong, but now I can't get loose. My stroke, it's not so good."



Previous Page Page 2 Next Page >

Top
MORE VIDEO...