Current Issue

Previous Page Page 3



Breaking Point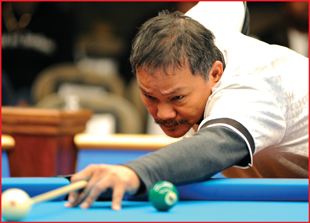 A rejuvenated Reyes was in contention before finishing fourth. (Photo by Tony Fox)
WHILE THE Filipinos had no shortage of challengers in the field, the hot-seat match proved that the first Pinoy champion would have to go through the lone American. In the hot-seat match, Van Boening throttled Pagulayan from the start. Riding his devastating break, he cleared six racks from the break and sprinted away from his frequent rival to take a spot in the final, 11-5.

Pagulayan never quite recovered in the left-side final, where Orcollo continued his left-side run with an 11-7 win.

Matching Van Boening's break shot with precise shot-making and virtually error-free position, Orcollo could hardly be considered an underdog entering the race-to-13 final. But inside the ballroom, there was a sense of inevitability to Van Boening's pursuit, with the way he was running over huge names - Nick van den Berg, 11-4; Chris Melling, 11-4; Parica, 11-5. Outside of his scare against Alcano, where he took the final two racks for an 11-10 win, Van Boening was never challenged while navigating a field stacked with the best players in the world.

In a bit of a sputtering start to the final, Orcollo took an early 2-1 lead. But Van Boening won three straight safety battles to grab a 4-2 lead - and that's when he really got going. Erasing tables by nailing challenging shots to compensate for a few loose position plays, Van Boening cleared four of the next five racks from break. That two-rack advantage quickly ballooned into a 9-2 lead. Still, learning from his experience playing Orcollo in money games, the American, knew the Filipino would make his run.

"I knew I had to put him away," Van Boening said. "He's one of the best and he'll never give up. Whenever I had a chance, I couldn't make a mistake. That's really all I was thinking."

Orcollo responded when Van Boening's only unsuccessful break ended with the cue ball in the side pocket. The Filipino cleared that open table and won a safety battle, before running three racks from the break. Within two games at 9-7, Orcollo then missed a tricky jump shot on the 1, which proved to be his last chance.

Van Boening took that rack and promptly the next three from the break to clinch his title, 13-7. Orcollo took his runner-up finish in stride, offering congratulations to the American.

"I thought if we can play well, everyone will enjoy it what they'll see," he said. "I can say I tried my best, but Shane was better today."

Following his win, Van Boening, whose table-side disposition rarely includes much more than a raised eyebrow or disbelieving sigh, took a moment to mention an influential force in his early development, in and out of pool. His good friend and early mentor Chad Pollman died of a heart attack in June.

"He helped me with my game and took me on the road to win tournaments in my younger days," Van Boening said, making special mention of Pollman's presence during his first title run five years earlier. "I had a good relationship with Chad, especially in 2007. He would call me after every match I played, and helped me focus, stay strong and positive. His support helped me win. ... After his passing, I made a goal to win the U.S. Open again and felt he was there for me."

With title No. 2 freshly in hand, Van Boening wasted no time in looking ahead, if only in jest.

"What do I need, three more to tie Earl?" he said, acknowledging Earl Strickland's record five U.S. Open titles.

If he can come anywhere close to replicating his dominant form over the past week, though, the joke might be on his competition.



Previous Page Page 3


Top
MORE VIDEO...