Current Issue

Previous Page Page 2 Next Page >



Final Verdict: Immonen Can Win It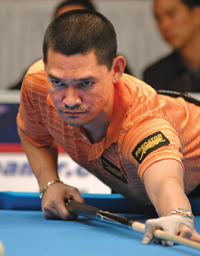 Alcano watched his second consecutive trip to the final fall short.
From the start of the 33rd annual U.S. Open, players and spectators saw something different in Immonen. His stroke was as strong and fluid as ever, but he moved with a new sense of purpose - a sense of his ultimate destination. He blew through racks like a summer storm. He had the upright alertness of an English hunting dog, plus its eagerness to pounce.

What his opponents didn't know was that Immonen had decided to win this U.S. Open. "I specifically made it my goal to win," he said.

It may seem obvious, but to win a major event like the U.S. Open 9-Ball Championship - which this year featured 236 players from 20 countries - you have to decide that you're going to do it. You can't back into it. You can't just want it. You must choose to win and make it happen.

Immonen knew that he had been playing well enough over the previous few months. He led in the final of the World Pool Masters in May, only to fall victim to an improbable five-rack comeback by Alex Pagulayan. He reached the quarterfinal of the World 10-Ball Championship in early October.

He also took motivation from an event he didn't attend. After 11 straight years on Europe's Mosconi Cup team, he was left off the roster in 2007. A win at the U.S. Open would be his best chance at a return trip to the Ryder Cup-style, transatlantic pool competition.

When Immonen arrived in his adopted home of New York City in mid-October after an extended tournament trip, he told his girlfriend, Celine Novenario, that he would be busy training over the next week for the U.S. Open.

"He was really in a different frame of mind," Novenario said. "He was really so determined. He just said, 'I'm going to train really hard for this.' He really wanted this. He wanted it badly."

Immonen spent several hours a day in the poolroom. One of the fittest players in pool - maybe in the history of the game - he also hit the gym. Once the Open started in Chesapeake, he and buddy Marcus Chamat of Sweden would work out every day and run three to five miles.

"It definitely helps," Immonen said of his workout regimen. "The endorphins kick in, and you feel calm and happy and confident. Things don't get to you the same way."

When Immonen is in that kind of groove, he can beat anyone in the world. When Immonen is in a mood, he can beat himself.

When he's on his game, he seems to skate around the table and glide into position. Each shot begins with a cue-wielding flourish, as if drawing a rapier from its sheath. He spears shots and slips into the next position while the cue ball follows suit. It's effortless, like riding a bicycle downhill.

When Immonen gets flustered, this billiard ballet turns ugly. He mumbles to himself. He sulks and shakes his head. He turns up his palms, shrugs his shoulders and draws maps in the air of where the balls should have traveled. Suddenly, he's pedaling uphill while continually looking back at his mistakes.

In order to win the U.S. Open, he knew he needed more of the former and less of the latter.

"I'm trying to zero out everything," he said. "I get heated if I make a mistake. But once you come on the table again, you're fresh and you calm down and make the runout."


Previous Page Page 2 Next Page >

Top