Current Issue
Next Page >
The Quiet Man
Shane Van Boening, 2007 Player of the Year, sits atop the game that gave him strength, focus and resolve as a child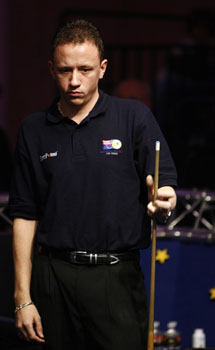 Deaf since birth, Van Boening grew up in a world defined more by sight than sound.
[Photo by Lawrence Lustig]
SHANE VAN BOENING, 18 months old, perched in a captain's chair in his grandfather's poolhall and watched the white ball chase the colored balls around the table. No fussing. No wandering. Just watching.

Already a fixture at the 8-Ball Express poolroom, he began to notice patterns, a structure, a method. He observed how the chalk swiveled on the tip. He noted the way the man's fingers wrapped around the stick. He tracked the back hand as it propelled the stick forward.

His mom, grandma and aunt would come and play right in front of him. Sometimes they hit the white ball hard. Sometimes they hit the white ball soft. The colored balls always dropped in the pockets. And that was delightfully awesome.

His Coke tasted fizzy and sweet. The air smelled musty. His butt felt hard against the seat.

No one was sure how much he could hear. Shane was almost totally deaf from birth. Even with the help of hearing aids at the age of 18 months, the clicks and clucks of balls colliding and railbirds chattering were certain to seem distant and alien.

So, he listened by watching. Chalk, hands, stick, ball, pocket. Repeat. Mom, aunt, grandpa, grandma. Awesome.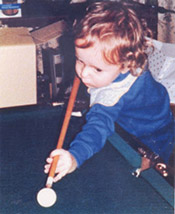 Receiving a toy table, young Van Boening knew what to do.
Months later, at Christmas, his grandfather ripped the wrapping paper off of a big box and said, "C'mere, Shane." It was a 2-by-4-foot pool table, with miniature balls and stick.

Shane dropped his other toys and watched his grandfather set up the table and roll out some balls. Shane grabbed the stick. He crunched his baby-carrot fingers around the shaft like his mom and aunt and grandma. He gripped the back. He looked down the shaft.

He was a pool player too.

"He was doing everything absolutely correctly, instinctively," Grandpa Gary said. "Every chance he got, he was on that little table. It was very obvious right then that this was his love."