Current Issue

Previous Page Page 2 Next Page >



TNT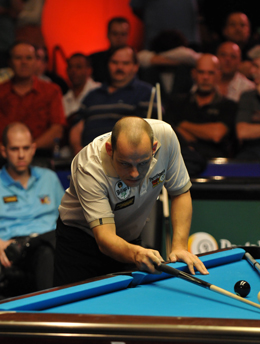 Appleton scored another major win in his first Matchroom Sport appearance at May's World Pool Masters. (Photo by JP Parmentier-Kozoom.com)
"I'm pretty tough mentally and I don't fear anything," he says, explaining his quick and successful transition from one game to the next, "I've always been that way. It probably has something to do with coming from such a sporting family of boxers and dart players and pool players. The one-on-one thing drew me from the time I was a kid. I love the idea that you can't rely on anybody but yourself. It's just you against a guy and proving you have the stronger will to win, and that you deal with the pressure better. It's something I don't think you can teach. I was simply born with a gift to handle those situations, and in my opinion, I'm as good as anybody in the world at it."

Of course, Yorkshire, in Northern England - a one-hour drive from Manchester, four hours from London - has always been a hotbed of top cue talent, sprouting not only Appleton but the likes of Daryl Peach, Mick "The Machine" Hill, Kelly Fisher and Sarah Ellerby, to name a few. One of three brothers, Darren was born and raised in the tiny West Yorkshire town of Pontefract, best known for its liquorice cakes and ubiquitous pubs. His dad Tony was a handyman, mostly fixing cars, before he retired after a heart attack, and his mom Susan, also retired now, worked in a sewing machine factory. The family lived in a rented three-bedroom "council house," which is the United Kingdom version of public housing. "We were poor, but we always had enough money to pay the bills and put food on the table," Appleton says.

His start in pool was something of a false one. When he was 9 years old, his brother Shane received a 6-foot table as a Christmas present. But with the table sold a year later, Darren was on to such other things as soccer (scoring between two and three goals a game as a striker) and boxing (building a 12-4 record, including six KO's, as a lightweight over five years). He didn't play pool again until he was 15, after seeing exhibitions in local pubs featuring his cousin Andy, who played for 25 years on the English 8-ball circuit and was ranked as high as No. 4. "I was so inspired by Andy that I began playing 14 hours a day," he says. "People kept telling me I had a special talent for the game." Says Andy, who coached Darren during those early years: "You could see the ability (right away). I said to everyone at that time, '(He has) future champion written all over him.'" Sure enough, a year later, Darren won the junior nationals 8-ball, and in 1996, at age 20, he quit soccer and boxing entirely to turn pool pro.


Previous Page Page 2 Next Page >

Top