Current Issue

Previous Page Page 2 Next Page >



Double-Elimination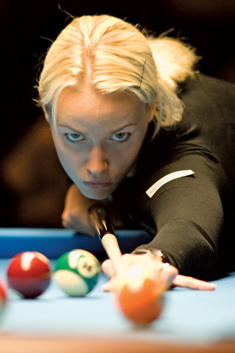 Trailblazing Ouschan stared down Immonen and Ortmann to reach the semis.
Other familiar names moving on to the double-elimination stage included Queens' venerable Danny Barouty (who would excuse Hunter from the field); the field's youngest entrant, 16-year old German wunderkind Dominic Jentsch; No. 4 seed Danny Harriman; and Austria's 22-year-old Jasmin Ouschan, one of five women who received wild-card exemptions for the event.

Among those notables who didn't go on: last year's third-place finisher Martin Kempter, also of Austria, he of the sledgehammer break shots; Earl Herring, a star of the '70s, remembered among pool trivia experts as the first male to lose a sanctioned, national-class tournament match to a woman (the great Jean Balukas); enduring women's pro Gerda Hofstatter; and all the other women except Ouschan.

And what the ensuing double-elimination stage mostly produced, at least on the first day of competition, was some spectacularly lousy pool. At any one of the ballroom's tables, you could see players skidding and hanging up balls, blowing position, sending the cue ball to jail, misjudging speed, and grinning at one another over their ineptitudes on challenging equipment. "The pitch of the pocket jaws doesn't give you a lot of pocket to work with when the object ball's on a rail," Hunter explained, "and if you have to get the cue ball across the table on a shot like that, you're in deep trouble."

The only four players who seemed to have their own games in tow were all from Germany, or close to it: defending champion Oliver Ortmann, Hohmann, the spindly Thomas Engert, and Austria's Ouschan. Ortmann took out the perpetually chirping Sigel fairly easily. Hohmann reprised his incredible 2006 championship form in running 150-and-out on his countryman Ralf Souquet. Engert ran nearly 130 in dealing Jentsch a severe lesson in manners. And Ouschan set a record for women when she ran 90-and-out in dismantling Poland's Radoslaw Babica. She also had an 84-ball run in another match.


Previous Page Page 2 Next Page >

Top