Player: Corey Deuel
Event: Derby City Classic — One-Pocket Division
Location: Elizabeth, Indiana
Date: February 1, 2019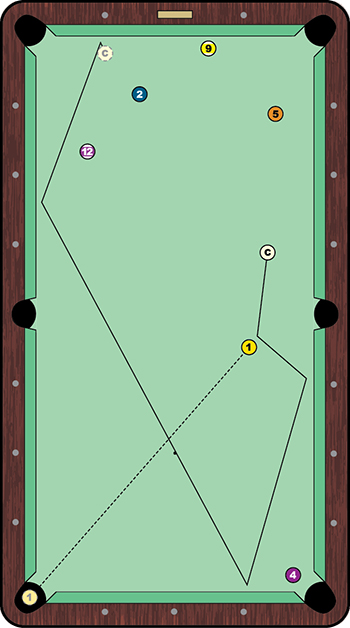 For all the bunts and safeties and esoteric position plays that make one-pocket so enjoyable to its biggest fans, the game can produce more standard highlight-reel fare. A player who is in a spot where he has to go for the win has to quickly loosen up his elbow.
Such was the case in this month's "Stroke of Genius," which comes from the final match at the Derby City Classic's one-pocket division earlier this year in Elizabeth, Ind. Corey Deuel faced Francisco Bustamante in the race-to-three for the title. The Filipino, who was defending his title from 2018, sank three balls in his pocket in the lower right corner, before missing a thin cut on the 4 ball.
Deuel, who conquered the one-pocket division in 2013, responded by pocketing six balls in the lower left corner. But he didn't have a clear path to victory, finding himself in the situation shown in the diagram. He has an awkward angle on the 1 ball, requiring a long, backward cut to get on the hill. The real question, though, was what could he do for a game ball?
Commentators Mark Wilson and Nick Varner couldn't see how Deuel planned to get shape on his eighth ball, but the American had a surprise for everyone in the arena. He did, in fact, play the 1 ball into his bottom left corner, while sending the cue ball forward. It first clipped the right long rail before hitting the foot rail and heading back up-table. It bounced off the third and fourth rails before coming to a stop inches off the head rail. Deuel had a perfect shot on the 12, which he sank to take the first rack.
From there, though, Bustamante bounced back to win the set, 3-2, for back-to-back wins in the division.
(Video clip provided by
Accu-Stats Video Productions
.)
(Check out Accu-Stats' full library of great shots and amazing matches at www.accu-stats.com)