Player: Oliver Ortmann
Event: 2009 Predator World 14.1 Straight Pool Championship
Date: August 24, 2009
TO NOBODY'S surprise, Oliver Ortmann was a force at the 2009 World Straight Pool Championship. On his way to a 5-0 record in group play, the two-time world 14.1 champ ran 100-and-out on a pair of opponents.
But New Jersey's Steve Lipsky presented a bit of a problem for the German. Facing a 56-41 deficit, Lipsky attempted to lock Ortmann up behind the stack, only to leave a small angle on the 1 ball.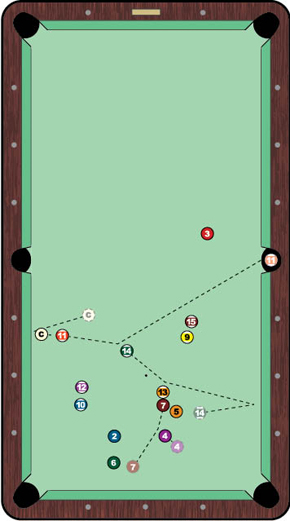 Ortmann sank the long cut on that ball, but then he received a bit of bad fortune on his next attempt. Hitting a dead combination, he easily sank the 8 in the bottom right corner pocket, but the cue ball kissed off the 12 and into the position shown in the diagram. Nestled up between the 11 ball and the long rail, the cue ball wasn't exactly in an ideal location to continue his run.
Any attempt from such a situation was a long shot, at best. Even Accu-Stats commentators Danny DiLiberto and Jonathan Bender agreed that Ortmann had little hope of escaping the result of a tough roll.
Within seconds, though, Ortmann called his shot. He was going to carom the 11 ball off the 14 and into the side pocket. Jacking up his cue and aiming just below center on the cue ball, Ortmann popped the cue ball into the 11 with a punch stroke. While the cue ball drew back off the long rail and out toward the center of the table, the 11 ricocheted off the 14, just past the 15, and straight into the side pocket.
Showing his creative approach to problem solving, Ortmann wasted no time making the most of this tricky carom. He kept control of the table and ran 40 more balls in just less than 13 minutes for an impressive 100-41 victory.
(Video clip provided by
Accu-Stats Video Productions
.)
(Check out Accu-Stats' full library of great shots and amazing matches at www.accu-stats.com)