Player: Steve Mizerak
Event: Sands Regency XXIII Open
Location: Reno, Nevada
Date: June 8, 1991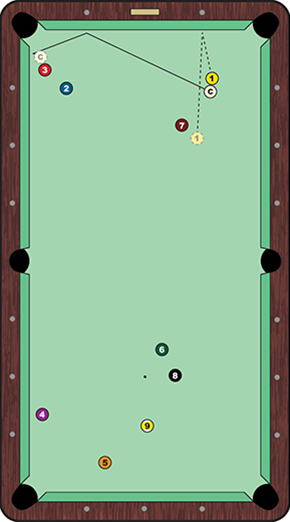 For every highlight reel jump kick or bone-rattling break shot, pool presents plenty more shots that emphasize finesse over firepower. These types of shots equally warrant inclusion in our "Stroke of Genius" series, though it's only natural this space tends to err on the side of the visually striking. This month, however, Steve Mizerak checks in with an outstanding display of touch in a tense moment at the 1991 Sands Regency XIII Open. The Mighty Miz is trailing 27-year-old C.J. Wiley, 10-9, in a race to 11. Wiley leaves the cue ball frozen to the 1 after the break, meaning Mizerak doesn't have a whole lot of options. Checking with the referee to avoid a potential foul, Mizerak decides to play a tricky defensive shot that requires an absurd amount of speed control. He strokes the cue ball into the 1 ball at an angle. The cue ball rolls up toward the top left corner pocket, near the cluster that includes the 2 and 3 balls. The 1 ball, meanwhile, takes a round trip off the head rail and hides behind the 7. Mizerak nearly freezes the cue ball to the 3 ball in the corner for a near-perfect safety play that left Wiley with nothing but a prayer. The young gun almost nailed the Hail Mary when he kicked the ball into the far corner. But his cue ball also found a pocket, leaving Mizerak an open table, and he evened it up at 10-10. But with the case rack sitting in front of him, Mizerak then broke dry. Wiley had no troubles navigating the open table for the thrilling hill-hill victory. Mizerak's tournament was over, but he could at least take solace in this defensive play, which was the shot of the match.
(Video clip provided by
Accu-Stats Video Productions
.)
(Check out Accu-Stats' full library of great shots and amazing matches at www.accu-stats.com)