Player: Feder Gorst
Event: Derby City Classic — Big Foot 10-Ball
Location: Elizabeth, Indiana
Date: January 26, 2019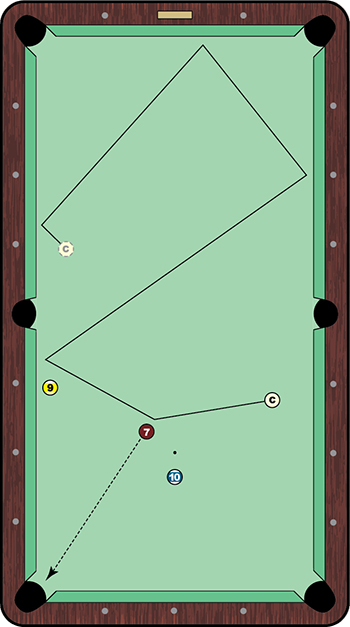 With 2019 being its seventh year, the Derby City Classic's Big Foot 10-Ball Challenge — named because it takes place on a 10-foot table &mdash isn't the curiosity it was once was. Sure, pros aren't chalking up on 10-footers all that often, but the 16-player, single-elimination tournament attracts a murderer's row of international talent. (Past champs include Shane Van Boening, Jayson Shaw and Dennis Orcollo, if that's an indication of the level of play.)

In January, Alex Pagulayan — make that newly BCA Hall of Fame inductee Alex Pagulayan — took on Feder Gorst in the first round of the 10-ball event. The two were tied at nine games apiece in the race-to-11 when the Filipino missed a combo after a defensive battle. Gorst started his run with a carom, eventually working his way to the 6 ball. But playing shape on the 7, the Russian went long, sending the cue ball over the center spot and into the position shown, giving him a long, awkward angle on the 7.

With the side pocket in play, Gorst didn't have an easy path to position on the 9, which was an inch off the left long rail. Commentators Mark Wilson and Billy Incardona ruled out slow-rolling the cue ball off one rail. His best bet, they suspected, would be to play the cue ball off both long rails, hoping it would stop somewhere near the head spot.

Gorst, however, had other ideas. With a touch of draw and a firm stroke, he sent the 7 directly into the lower left corner. The cue ball drilled the long rail between the 9 ball and corner pocket, before heading off three more rails. It eventually came to a stop with an easy angle on the 9 for the same corner pocket, leaving him natural position for the 10.

Gorst cleared the final two balls to get on the hill. He then won the next rack to advance, 11-9.
(Video clip provided by
Accu-Stats Video Productions
.)
(Check out Accu-Stats' full library of great shots and amazing matches at www.accu-stats.com)