Player: Shannon Daulton
Event: The Southern Classic One-Pocket Division
Location: Tunica, Miss.
Date: July 27, 2012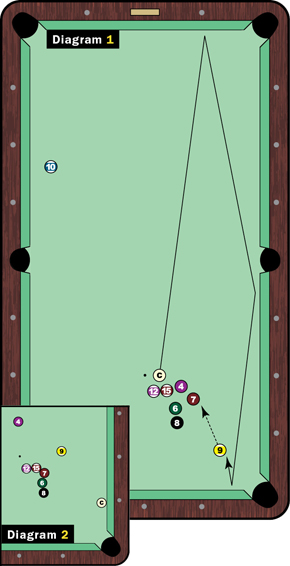 AT LAST year's inaugural Southern Classic - a nine-day carbon-copy tournament of the Derby City Classic held in July in Tunica, Miss. - Shannon Daulton had his work cut out for him. Down to the final three players in the one-pocket division, Justin Hall had a 2-0 lead in the race to 3, with Ryan Stone awaiting the winner in what would be the final. Daulton was already behind 6-1 in balls when Hall, who had just won the Southern Classic's banks division two days before, stuck the cue ball to the top of the stack and put the 9 near his pocket (the lower right in Diagram 1).
With the 10 ball preventing the four-rail kick at the 9, which was "the shot" according to Accu-Stats commentator Danny DiLiberto, Daulton had a two-rail option, by sending the cue ball off the left long rail and the bottom short rail. Instead, he dreamed up this risky three-rail kick. Sending the cue ball two full table-lengths, Daulton narrowly missed the side pocket as the cue ball sent the 9 into the 7 ball.
The result? As you can see in Diagram 2, about the best Daulton could've hoped for. The cue ball hit the 9 and then stuck to the long rail. The 4 popped out into open space, while the 9 stopped in a much less threatening position. Hall was forced to duck by sticking the cue ball in the jaws of Daulton's pocket. But, in the end, this table-turner wasn't enough. Hall took two more balls to close out the match - and he then topped Stone in the final. While this moment belonged to Daulton, the event certainly belonged to Hall, who earned Master of the Table honors..
(Video clip provided by
Accu-Stats Video Productions
.)
(Check out Accu-Stats' full library of great shots and amazing matches at www.accu-stats.com)