Player: Roger Griffis
Event: 2001 Accu-Stats 8-Ball Invitational
Location: Burbank, Calif.
Date: Oct. 28, 2001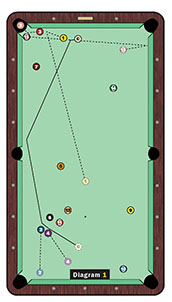 Unlike 9-ball,where most of your attention will be focused on no more than the next three balls, 8-ball has a few more moving parts. You've got more options in stripes and solids, but you also have more opportunities to get tripped up on your way to victory.
At the 2001 Accu-Stats 8-Ball Invitational, where six of the world's best 8-ballers gathered in Southern California for a round-robin tournament, Roger Griffis faced Efren Reyes in the championship-deciding race-to-8 match, after the two finished the event tied at 4-1.
With the set tied, 1-1, Griffis broke open the third rack and faced a difficult proposition. He had little choice but solids, and pocketed his first ball after the break to put himself in the position shown in the diagram.
He had a crooked angle on the 1-3 combination in the top left, but that was only one of his problems. He also had the 15 sitting on the edge of that pocket and the 2-4-8 cluster down-table.
Accu-Stats commentator Billy Incardona noticed the opportunity to open the rack, but wondered if Griffis had "enough nerve to do that."
Griffis showed plenty of mettle and wiped away his worries with one shot. He sent the 1 into the 3, which clipped the 15 on its way into the corner pocket. The 1 tracked down-table along with the cue ball, which broke open the 2-4-8 cluster.
The cue rolled into position for a shot on the 2, and the table looked like a road map to the 8. But, while you can erase some problems quickly, you still have to drop the 8 ball. Griffis fumbled the easy game-winner, and Reyes took the gift on his way to an 8-3 victory.
(Video clip provided by
Accu-Stats Video Productions
.)
(Check out Accu-Stats' full library of great shots and amazing matches at www.accu-stats.com)