Player: Albin Ouschan
Event: International 9-Ball Open
Location: Norfolk, Virginia
Date: October 21, 2018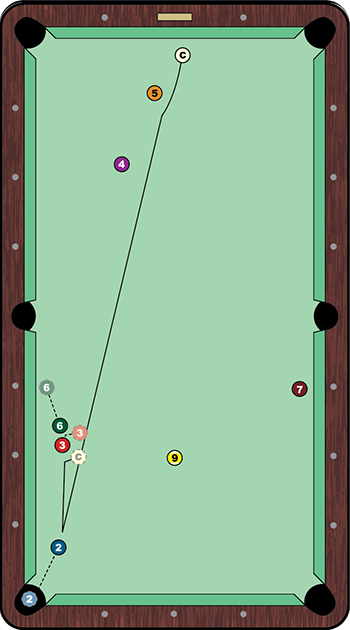 Drawing a cue ball back on a full-table shot is impressive. Doing it while hopping the cue ball over the edge of a blocking ball is enough to qualify a shot as genius.

Austrian world-beater Albin Ouschan didn't really need an exclamation point in his opening set against Mitch Ellerman at the International 9-Ball Open. But Ouschan still uncorked a beauty to get on the hill against the American.

Ellerman, struggling to keep pace with the hot-shooting Team Europe member, tried to tuck the cue ball behind the 5 along the head rail. He came close. Ouschan didn't have a direct line to the 2 ball, which was sitting a few inches from the bottom left corner, but the 5 was only partially blocking the cue ball.

At the same time, things could've been better. Namely, the 3 ball could have been out in the open, instead of tied up along the left long rail with the 6 ball. All in all, Ouschan had a lot on his to-do list.

But he answered with a hop, skip and a draw.

While the announcers questioned the prudence of such an aggressive shot, the Austrian jacked up his cue and aimed low on the cue ball. Popping the cue ball just an inch or two off the table, Ouschan cleared the 5 ball, with the cue ball drilling the 2 with a nearly full hit. The blue ball dropped in the bottom left pocket, while the cue ball spun back toward the headrail. It clipped the rail before nudging the 3 ball off the 6 and into the open.

With an advantageous angle into the top left pocket, Ouschan cleared the table to get on the hill. He took the next rack to finish off an impressive performance in which he posted a .963 total performance average — a nearly flawless performance.
(Video clip provided by
Accu-Stats Video Productions
.)
(Check out Accu-Stats' full library of great shots and amazing matches at www.accu-stats.com)