Player: Alex Pagulayan
Event: Southern Classic 10-Ball Challenge
Location: Tunica, Miss.
Date: July 27, 2012
IF YOU get bored with a measly game of 9-ball on a 9-foot table, last summerís Diamond 10-Ball Challenge was your kind of event. The 16-player, single-elimination tournament pitted players against one another on a specially designed 10-foot table.
And as it turned out,the extra real estate went to good use in the final.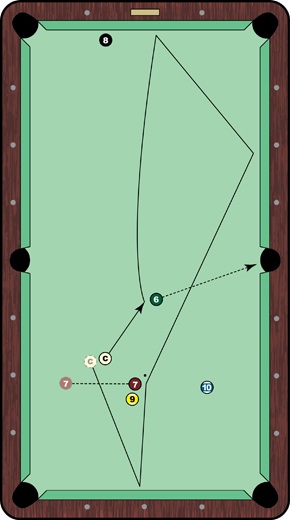 Pitted against Hall of Famer Johnny Archer, Alex Pagulayan inched out to a 13-12 lead in the race to 15. But trying to navigate a tricky rack to get on the hill, Pagulayan ran into a speed bump. As you can see in the diagram, the 7 ball sat tied up with the 9, just inches below the foot spot. Plan A was to stay above the 6 ball in the side pocket, which would allow Pagulayan to send the cue ball into the cluster in the hope of freeing the 7 for a shot. But he overshot his landing on the 6 ball by a few inches, forcing him to quickly come up with Plan B.
While commentators Danny DiLiberto and Mark Wilson lamented his dire situation, Pagulayan come up with a two-rail path to the 7 ball. Loading up on inside English, he drilled the 6 in the side with enough topspin to bend the cue ballís path toward the right long rail. The sidespin widened the ballís path as it went off two rails and made a beeline for the 7 ball.
The cue ball thinly sliced the 7 ball, pushing it a diamond over, and rolled into perfect shape for position on the 8 ball. Pagulayan cleared without incident to move within a single 10 ball of the title.
While Archer fought back to force a case game, Pagulayan managed to escape that tight situation as well, taking the $12,000 first prize by the slimmest of margins.
(Video clip provided by
Accu-Stats Video Productions
.)
(Check out Accu-Statsí full library of great shots and amazing matches at www.accu-stats.com)