Player: Efren Reyes
Event: Fatboy 10-Ball Challenge at the Derby City Classic
Date: January 27, 2010
ONE OF the more recent additions to the controlled chaos of the Derby City Classic, the 2010 Fatboy 10-Ball Challenge collected 16 of the world's best players in a single-elimination event that was played over three nights (or, more often than not, three early mornings), after the main divisions ended play for the day.
In this year's tournament, the second year for the Fatboy Challenge, Efren Reyes met up with Johnny Archer in one semifinal, a race-to-15 on the Accu-Stats TV table.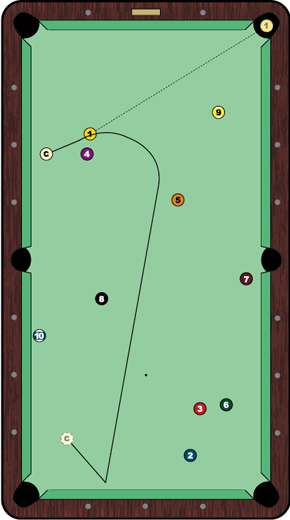 After clearing the first rack from the break, Archer then came up dry on his following break. But in his first trip to the table, Reyes faced a rather prickly position, shown in the diagram.
With a slight angle on the 1 ball, Reyes had to deal with the troublesome 4 ball, which was slightly to the right of the cue ball's path into the 1. With the 2 ball on the other end rail, he'd have a difficult time drawing the cue ball straight back and into position for his next shot.
As Accu-Stats commentator Mark Wilson said, "Efren is the master of creativity, but this is really going to test him."
Loading up on draw with a touch of left English, Reyes pulled off a jump-draw shot, sending the cue ball into the 1 and over the left side of the 4 ball. Hopping just a few inches off the table, the back-spinning cue ball grabbed a hold of the cloth and curved back toward the middle of the foot rail, coming to a stop in perfect shape for the 2 ball.
After this imaginative shot, the Magician had a wide-open table, which he cleared to even the match at a game apiece. Reyes went on to win the set, 15-11, and then the Fatboy Challenge title the following evening - yet another crown for the king of Derby City.
(Video clip provided by
Accu-Stats Video Productions
.)
(Check out Accu-Stats' full library of great shots and amazing matches at www.accu-stats.com)