Player: Dennis Orcollo
Event: The Southern Classic 10-Ball Challenge
Location: Tunica, Miss.
Date: July 27, 2012
AT LAST year's Southern Classic, 16 pros got together and ponied up $1,000 to hop into a single-elimination 10-ball challenge. Oh, and there was one more little change of pace: The race-to-15 matches would be played on specially made 10-foot Diamond tables.
By the time Dennis Orcollo worked his way into the final four, where he met Johnny Archer, the Filipino had had plenty of time to acclimate himself to the bigger playing field.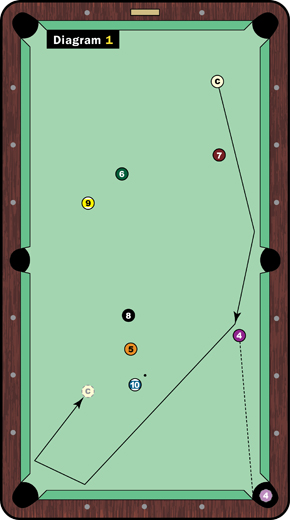 He wasn't entirely settled, though, and looked uncharacteristically shaky on his way through the set.
Trailing Archer, 13-10, Orcollo misplayed position on the 4 ball - partially due to his needing to use an extension to reach what would be a normally playable ball near the center of the table. With the 7 ball preventing Orcollo from direct access to the 4, he opted to go rail first - no easy proposition when you're six feet from an object ball that's another three feet from the pocket.
Using a bit of right English, Orcollo struck the shot perfectly, and the cue ball sent the 4 ball into the corner pocket with ease. The sidespin then helped the cue ball float down to the bottom right corner, where it fell into place for a simple shot on the 5 in the side.
Orcollo looked entirely in control of the rack, which would've brought him within two of Archer, but things didn't work out as planned. He rolled into perfect shape for a routine shot on the 10 ball, but the unflappable world champion fumbled the game-winner. Archer mopped up the mess, and then took the next rack for the win. Still, even when Orcollo's off, he's capable of genius.
(Video clip provided by
Accu-Stats Video Productions
.)
(Check out Accu-Stats' full library of great shots and amazing matches at www.accu-stats.com)