Player: Shannon Daulton
Event: Derby City Classic
One-Pocket Division
Location: Elizabeth, Ind.
Date: Jan. 30, 2014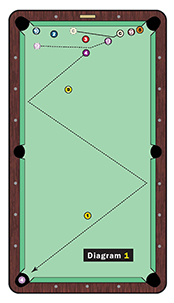 For all the bunts and ducks in high level one-pocket, pool?s most cerebral discipline can just as quickly unleash a stunning highlight that requires as much shot-making skill as anything in 9-ball.
Take Shannon Daulton at this year's Derby City Open one-pocket division. One of Derby's most decorated players, he was chasing his first crown in the one-pocket division. (He has topped the 9-ball division twice, the banks tournament once and took the 2001 Master of the Table award.) Daulton met former one-pocket champ Scott Frost in the semifinal match, where each player had used his buy-back option, while an undefeated Efren Reyes took the bye into the final.
After taking the first rack in the race to 3, Daulton escaped a difficult position with a tricky bank into his pocket (the bottom left in Diagram 1). Unfortunately, he had little left for an offensive option. Commentators Danny DiLIberto and Billy Incardona contemplated his fate, with kissing the 12 ball off the 4 toward Daulton?s pocket a likely bet.
But another option seemed more friendly to the genteel southerner. Daulton drilled the 12 fully into the 4 ball, which zig-zagged across the table and toward his pocket. It narrowly missed the 1 ball sitting on the spot on its way into the corner pocket. The unbelievable shot left Daulton in perfect position for the 9 ? which he promptly missed.
While Daulton dropped the game, he bounced back to oust Frost, 3-2, for a spot in the final. Unfortunately, Reyes was less accommodating, as the Filipino legend won his sixth Derby City one-pocket title.
(Video clip provided by
Accu-Stats Video Productions
.)
(Check out Accu-Stats' full library of great shots and amazing matches at www.accu-stats.com)