Player: Alex Pagulayan
Event: Derby City Classic — Big Foot 10-Ball Challenge
Location: Elizabeth, Indiana
Date: January 26, 2019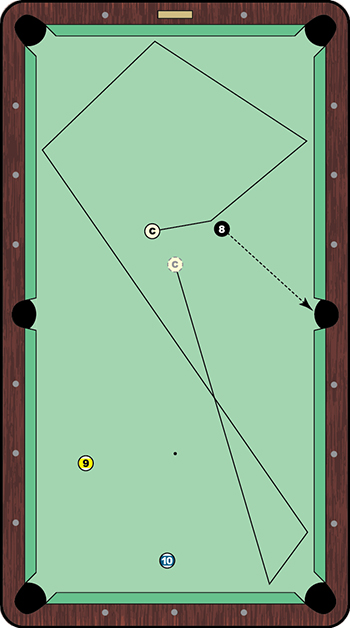 If you put a little guy on a big table, it's not like you're guaranteed to see some fireworks. Now, if that guy happens to be one of the greatest shot-makers of the last 20 years, the odds might get bumped up a bit.

Alex Pagulayan was playing Fedor Gorst at this year's Big Foot 10-Ball Challenge at the Derby City Classic — a 16-player, single-elimination tournament played on a custom-made 10-foot Diamond table. The diminutive Filipino drew the cue ball too far and fell out of shape when he got to the 8 ball. With an awkward angle into the side pocket, Pagulayan didn't have a natural path back down table to the 9 ball in the bottom left pocket.

A few things were certain though; he had to send the cue ball around the whole table, and he needed to use a powerful stroke to hope for a decent shot at the 9. (That extra foot of length of the table only made Pagulayan's potential path that much longer.)

With a firm, punchy stroke, he drilled the left side of the 8 ball, which went directly in the side pocket. The cue ball flew into the right long rail and quickly ricocheted off the head rail and left rail as it made a beeline for the bottom left corner.

After hitting its fourth and fifth rail, the cue ball rolled toward center-table, in perfect shape for a shot on the 9. Showcasing such elite speed control, Pagulayan even managed to keep from being straight-in on the 9. He had a natural angle for position on the game-winning 10.

Pagulayan cleared the table to grab a 2-0 lead in the race-to-11, but Gorst came roaring back for an 11-9 match victory.
(Video clip provided by
Accu-Stats Video Productions
.)
(Check out Accu-Stats' full library of great shots and amazing matches at www.accu-stats.com)