Player: Dennis Orcollo
Event: Derby City Classic — George Fels Memorial 14.1 Tournament
One-Pocket Division
Location: Elizabeth, Ind.
Date: Feb. 1, 2014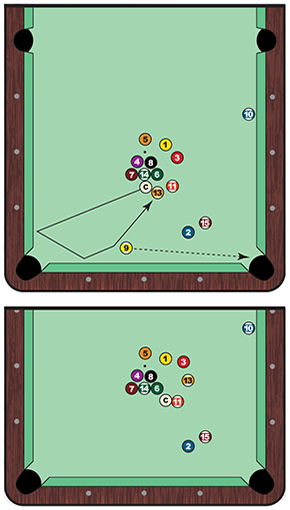 Considering how Filipinos embrace rotation, where you've got to contact one ball in making a shot in any of the six pockets, it's no wonder Dennis Orcollo took to straight pool at the 2014 Derby City Classic. He must have felt overwhelmed with possibilities knowing any ball could go in any pocket.
The George Fels Memorial Straight Pool Tournament opened with a high-run contest. Whether your Oliver Ortmann or Joey Nobody, you could pony up a few bucks and try to shoot your way into the final eight, who were then drawn into a single-elimination bracket. Orcollo, with limited experience in 14.1, looked like a natural with a 161-ball run. Russian sharpshooter Konstantin Stepanov, his eventual opponent in the final, kept pace with a run of 140.
In the 125-point championship featured a safety exchange that left Orcollo in the position shown. The cue ball was squeezed between two balls in the stack, which severely limited offensive options. Perhaps Orcollo was too inexperienced to to think of taking an intention scratch. Or maybe he's just too talented to pass up his eventual shot.
Sitting a few inches from the foot rail, the 9 ball was more than two diamonds from the bottom right corner. But Orcollo concocted a plan for a two-rail kick to sink it while the cue ball rolls back into the stack. The shot — incredibly brave or rash, depending on your viewpoint — went exactly as planned for Orcollo. Well, almost as planned.
The cue ball took a seat in the stack, without a natural follow-up shot. He missed his next attempt, but went on to win the match and the title.

(Video clip provided by Accu-Stats Video Productions.)



(Check out Accu-Stats' full library of great shots and amazing matches at www.accu-stats.com)