Player: Mike Sigel
Event: Living Legends Challenge
Location: Edison, New Jersey
Date: February 23, 2018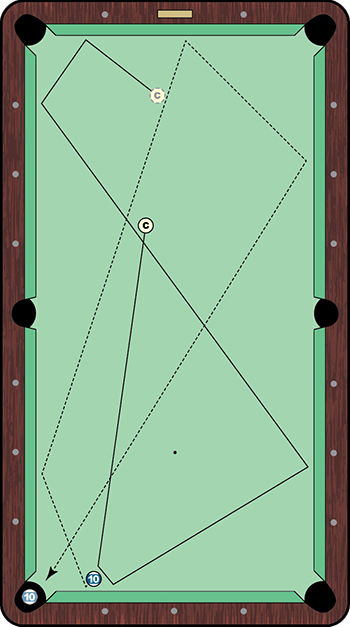 Pool isn't afraid of taking artistic license in hyping events, players, cues — just about anything to get a little attention. So when a promoter dubs an event &quote;The Living Legends Challenge,&quote; a healthy dose of skepticism is warranted. But last year's event, organized by Accu-Stats, pitting Mike Sigel against Earl Strickland in multi-discipline race-to-7 sets, more than lived up to such a lofty title.

Each could argue why he's the player of his generation — especially considering both legends are rarely short for words.

But in Edison, N.J., Strickland and Sigel let their cues talk. In 8-ball, the first of six disciplines, Strickland took the set, 8-2. Next up, in 10-ball, the Pearl was on the hill, 7-4, and looked to be on his way to victory until he erred on the set-clinching ball. Sigel came to the table in the position shown in the diagram to the right.

He didn't have a clean look at a pocket. He didn't even have an angle for a one-rail bank. The match commentators expected him to kick at the 10. Sigel, though, after scribbling imaginary lines all over the cloth with his cue tip, talked himself into a solution.

He kicked the 10 ball four rails with a relatively easy stroke. The object ball rattled off the foot rail and the left long rail, back up-table and then off the right rail, a full six diamonds from the bottom left corner. With a touch more than pocket speed, the 10 made its way across table and headed into the pocket nearest to its starting point, giving Sigel the game.

Unfortunately for Captain Hook, he would drop this set along with the next three to face a 5-0 deficit. Sigel would mount a slight comeback, taking three straight sets, before Strickland prevailed in the challenge, 7-3.
(Video clip provided by
Accu-Stats Video Productions
.)
(Check out Accu-Stats' full library of great shots and amazing matches at www.accu-stats.com)