Player: Truman Hogue
Event: 2002 Derby City Classic
Date: Jan. 7, 2002
THE GAME of 9-ball banks is not for the faint of heart. You've got to be fearless and aggressive. And at Louisville's Derby City Classic, held deep in the heart of bank-pool country, you better bring plenty of firepower.
In the banks division of the 2002 DCC, Truman Hogue all but dropped a nuclear bomb in the middle of his match with Shannon Daulton.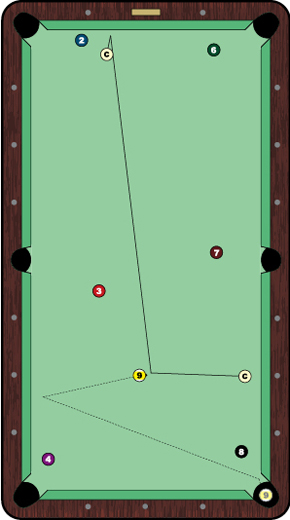 Just days before his 56th birthday, the bank-pool specialist pulled off an amazing run in the Derby's old Executive West. Dropping the first game in the race to 3, Hogue ran five-and-out in the second to get even with Daulton. He then made the first two banks in the third game and found himself in the position shown in the diagram. Up against the rail, Hogue passed up the possibility of banking the 4 ball cross corner, opting instead for this shot on the 9 ball.
With the cue ball up against the rail, the Kentucky native jacked up the back end of his cue, took a pair of quick practice strokes, and fired at the 9. With little more than pocket speed, Hogue snuck the 9 ball past the 8 and into the corner pocket. The cue ball drifted up-table, giving Hogue an angle on a table-length shot on the 3 — which he then buried on his way through his second consecutive five-and-out.
After opening the fourth rack with a run of three balls, Hogue missed a tough cross-corner try on the 1 ball, ending his run at an incredible 13 straight banks. While Hogue went on to win this match, 3-1, he was later eliminated in 10th place, with Daulton running all the way to fourth.
(Video clip provided by
Accu-Stats Video Productions
.)
(Check out Accu-Stats' full library of great shots and amazing matches at www.accu-stats.com)