Player: Shane Van Boening
Event: 2007 U.S. Open 9-Ball Championship
Date: Oct. 20, 2007
For the latest installment of our new monthly feature detailing amazing plays on the cloth, we turn back the calendar a few months for a pivotal safety by Shane Van Boening in the final of the U.S. Open 9-Ball Championship in Chesapeake, Va. Not all great shots have to sink a ball.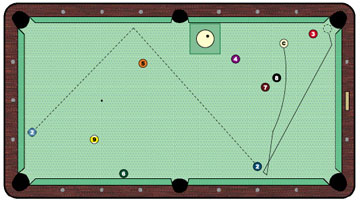 Within a year of committing to tournament pool full time, 24-year-old Van Boening had become the hottest player on the men's circuit. After placing second at the EnjoyPool.com 9-Ball Championships in May, he won the Predator 10-Ball World Championship days later. His only weaknesses at the 9-ball event appeared to be a somewhat unreliable break and loose safety play.
For the next few months, he practiced those elements incessantly. At the U.S. Open, his game was firing on all-cylinders, and he reached the final against Ronnie Alcano undefeated.
The reigning world 8-ball and 9-ball champ, Alcano was no patsy. He had the chance to knot the score at 10-10 in the 20th rack when he underhit his shot on the 1, forcing him to play safe on the 2. That left the layout seen in the diagram below. Van Boening could make contact fairly easily with a jump shot, but the 2 had no obvious pocket.
With his newly developed defensive smarts, Van Boening opted for a jump-kick safety. He applied high-right English, allowing the cue ball to come off the cushion at a wider angle and knock the 2 uptable. The real genius was to carom the cue ball off the 2 so that it crept back to the foot rail and hid in the pocket jaws.
Alcano fouled on his next attempt, giving his foe a two-game cushion. It was the back-breaker, leading to Van Boening's 13-10 victory.
(Check out Accu-Stats' full library of great shots and amazing matches at www.accu-stats.com)