Player: Rafael Martinez
Event: U.S. Open 9-Ball Championship
Date: October 22, 2009
RAFAEL MARTINEZ has been around long enough to know when to go for it and when to duck. So when he found himself in the situation shown in the diagram, you'd think he'd be smart enough to push out and put the onus on his opponent, Earl Strickland. With a rather cluttered table, there were a number of spots for Martinez to put the cue ball.
But the veteran pro from Mexico had other ideas. At the 2009 U.S. Open, in the fourth-round winners-side match against a hot-shooting Strickland,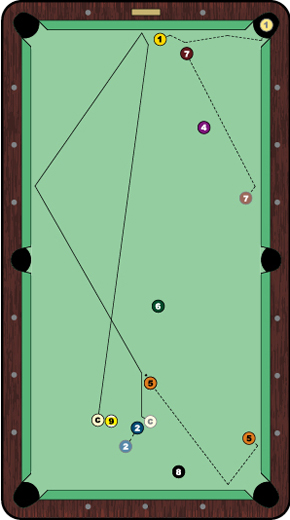 Martinez cracked open the rack with a 6-3 lead in the race to 11. He pocketed the 2 ball, but the cue ball nestled up right next to the 9. At first glance, an offensive option looked impossible. But with just the right angle - and a hair's distance between the cue ball and 9 - Martinez could see the left side of the 1 ball, even if the angle wasn't exactly friendly.
Loading up on left-hand English, Martinez sent the 1 off the head rail, into the 7 ball and straight toward the corner pocket. The left English on the cue ball then widened its angle toward the long rail. With plenty of pace, the cue ball rolled back down table, heading straight for the 5 ball, which was sitting near the foot spot. With a near-full hit on the 5, the cue ball ricocheted into the 2 ball. He had an angle on the 2, with the 4 ball sitting in space. Martinez worked his way through the rest of the rack to take a 7-3 lead.
Unfortunately, Strickland had a few moments of his own. The combustible Hall of Famer quickly erased the four-rack deficit to edge Martinez at the wire, 11-10. Things didn't get much better for Martinez on the one-loss side. In his next match, he faced Netherlander Niels Feijen, who pulled out another hill-hill victory to end Martinez's U.S. Open in heartbreaking fashion.
(Video clip provided by
Accu-Stats Video Productions
.)
(Check out Accu-Stats' full library of great shots and amazing matches at www.accu-stats.com)